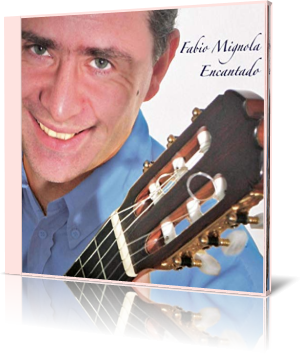 Suisse based guitarist Fabio Mignola has released a lot of albums with diverse styles in his solo career. Chitarra Ticinese (1999), Flor de Luna (2000), Flyin' Away (2003), Luna Rossa (2005), Take Me Higher (2008) are to mention. His new one, Encantado was released in September, 2018.
Fabio has composed all songs and performs guitars, keyboards, accordion, programming and vocals. Additional vocalists are Sofia Vassere and Laura Pura. Ezio Della Torre plays flute on selected tracks.
First warm up of the album is the uplifting Cheer Up. To put it bluntly, Fabio brings it directly to the point of happiness. Tucano is the Italian name of a bird family. Fabio transforms it into a lively festival of joy.
Encantado is the Spanish word for enchanted. The Bossa Nova tune is underlined with a female chorus and a string orchestra in the style of Antonio Carlos Jobim which has also deeply influenced Italian pop music of the 60's.
The wavering Brazilian Breeze swings in a mellow Samba rhythm. On Sweet Whim Fabio follows the melody route while the rhythm guitar sets modern smooth jazz accents. The only tune on which he strongly approaches Peter White's acoustic guitar style.
With Jacaranda he returns to the cheerful Italian music of the 60's. Silky Lips, Satin Vibe, Cool Move and Borboleta are further offerings of guitar oriented music, which is in its orientation strongly rooted in the past.
Admittedly I am not an advocate of this kind of retro music. Therefore I cannot say with certainty that there are still many followers of this style. But like everything in music, it will have its raison d'Ítre.




Buy the album in all stores

Album Information

Title: Encantado
Artist: Fabio Mignola
Year: 2018
Genre: Smooth Jazz
Label: Fabio Mignola

1 Cheer Up 4:47
2 Tucano 4:37
3 Encantado 3:50
4 Your Smiling Eyes 4:55
5 Brazilian Breeze 4:06
6 Sweet Whim 4:38
7 Jacaranda 4:24
8 Silky Lips 5:16
9 Satin Vibe 3:44
10 Cool Move 5:50
11 Borboleta 4:36



Further review:

Take Me Higher