Fabio Mignola Take Me Higher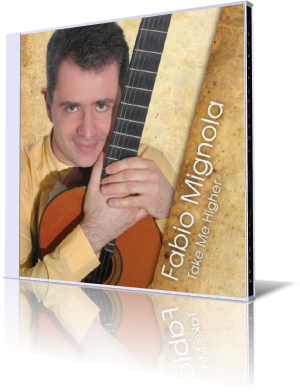 A Swiss guitarist with Italian heritage that sounds promising. Fabio Mignola studied his instrument with professor Dante Brenna and with further virtuosos like Alberto Ponce, Alexander Rodrigues and Ralph Towner.
His solo albums mirror his diverse styles and influences. In 1999 he released Chitarra Ticinese, solo guitar arrangements of folk songs, followed by Flor de Luna (2000), a collection of auxiliary solo recordings. His first step into the contemporary jazz genre was the album Flyin' Away (2003), which was compared with the music of Peter White and Acoustic Alchemy.
Neapolitan jazz is to hear on his album Luna Rossa (2005). His newest album Take Me Higher (2008) received high acclaims by many Internet critics of the smooth jazz realm. Fabio Mignola has written, engineered, and produced the album supported by special guest on flute Ezio Della Torre.
Take Me Higher is the title of the first track and program of this uplifting album. Brightening your mood is Fabio's impetus and task. Appealing guitar riffs with injected horns reflect the sunshine of spring.
O Seu Sorriso (Your Smile) is a Brazilian flavored guitar piece with an injected percussion solo of timbales. On Sparklin' Fabio reveals his Italian heritage. His guitar touch reminds me of Italian songs of the 60's and my personal memories of Italian holidays in the Toscana.
The Light In Your Eyes shows more of Fabio's guitar riffs performed on a Bossa rhythm enriched with a string arrangement. On Flamingos Flyin' and Night Flight To L.A. Fabio Mignola enjoys the audience with mellow melodies interpreted by his Spanish School trained acoustic guitar.
The magician of romantic guitar mesmerizes with The Light Touch and Groovy Nights. Like a warm wind flatters us the alluring Scirocco. Fabio Mignola's nucleus of romance is expressed in his Candlelight Serenade. With Midsummer's Night Breeze Fabio finishes his album showing his idea of smooth guitar performance for the last time.
Fabio Mignola presents with Take Me Higher the Italian amalgam of romantic sensibility.




Album Information

Title: Take Me Higher
Artist: Fabio Mignola
Year: 2008
Length: 0:52:58
Genre: Smooth Jazz
Label: Independent


Tracks:

01 Take Me Higher [4:25]
02 O Seu Sorriso [4:27]
03 Sparklin' [4:56]
04 The Light In Your Eyes [4:48]
05 Flamingos Flyin' [5:16]
06 Night Flight To L.A. [5:01]
07 The Light Touch [4:44]
08 Groovy Nights [4:48]
09 Scirocco [5:16]
10 Candlelight Serenade [4:45]
11 Midsummer's Night Breeze [4:33]