Lisa McClowry Time Signatures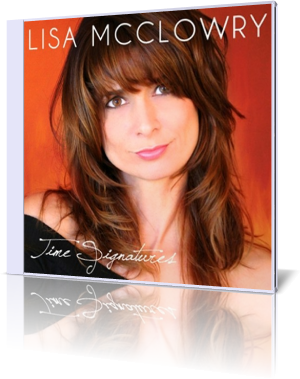 Chicago artist Lisa McClowry definitely loves to sing. Still on high school she already founded her first band Mischief and performed on various gigs. Her debut album Spyglass Hill was released in 2001. Together with her friend Thomas Linsk she formed the successful band Tom & Lisa. With the group Joe Hurt Trio she shared another album in 2006.
In 2005 she joined Jim Peterik (Eye Of The Tiger) on his concert. In 2006 she sung on his rock album Above The Storm. Her next collaboration with Jim was on the album Diary of a Chameleon (2007). The song Before the Tree Comes Down (2007) was her tribute to America's war effort.
Her first appearance in the smooth jazz genre was on Jim Peterik's album Lifeforce (2008). Now he gives the favor back with his strong support on Lisa's new album Time Signatures (2010). He produced her new album, wrote or co-wrote with her all songs and performed guitars, keyboards, percussion and more on her album.
Jim and Lisa assembled a great crowd of musicians on the new album. In the liner notes I discovered familiar artists like Steve Oliver, Mike Logan and Nick Colionne. So await finest quality.
Lisa explains the title Time Signatures as musical notation indicating the number of beats to a measure, but for her is every song a time signature of unforgettable moments. Lisa is blessed by a great love. So she ardently rejoices about the personal highlights of her life.
On the awesome ballade Waiting For You Jim Peterik excels with emotional guitar licks. A beautiful set up for Lisa's lovely interpretation. And Jeff Lantz' Hammond B3 organ touch catapults the song right into the American songbook.
With Born Twice Lisa and Jim are facing the rock heritage in a powerful song. On the other side of the scale Lisa showcases loveliness in Roses For No Reason. On Powerful Day Lisa shares her thoughts about a good day. And she sings out loud.
The ballade In A Word Why is Lisa's personal revenge with all things going wrong. Won't Say Bye Bye is another example, how Lisa pulls out all the stops of modern Pop music. She allures on Come Dancing like a siren. Unconditional Surrender is recognized as typical Peterik song,
Steve Eisen adds a saxy finish to Lisa's interpretation on When The Phone Don't Ring. Jim's future visions find their expression in Utopia. On the final When It Comes From The Heart Lisa prettily impressed with her strong voice.
Time Signatures is beyond all classifications and genres a wonderful vocal album, which will stand the tests of time.




Buy the album at iTunes

Album Information

Title: Time Signatures
Artist: Lisa McClowry
Year: 2010
Length: 0:50:30
Genre: General Pop
Label: World Stage International


Tracks:

01 Time Signatures [3:58]
02 Waiting For You [4:16]
03 Born Twice [3:18]
04 Roses For No Reason [4:51]
05 Powerful Day [2:59]
06 In A Word Why [3:16]
07 Won't Say Bye Bye [4:15]
08 Come Dancing [4:41]
09 Unconditional Surrender [4:36]
10 When The Phone Don't Ring [5:03]
11 Utopia [4:34]
12 When It Comes From The Heart [4:43]