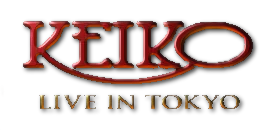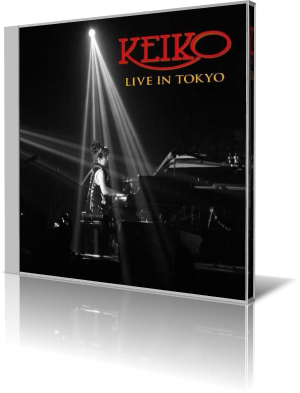 Japanese pianist Keiko Matsui is a gentle person, she grows as an artist to a radiant personality, when she performs live. Tokyo born Keiko Matsui devotes her life to her favorite instrument, the piano. Since her fifth birthday she loves and performs this piece of equipment. Classified as New Age or Smooth Jazz musician, she always expands her work to other genres. Blending Eastern and Western influences she has found her own style presented in numerous solo albums.
Understandably, have already appeared several live albums. Live In Tokyo, released on Shanachie Entertainment October 2, 2015, is something special. Recorded in a state-of-the-art theater in the TV Asahi EX Tower building in the vibrant nightlife district of Roppongi in Minato, Tokyo, this album offers stunning 74 minutes on CD and DVD.
The concert is part of Keiko's Soul Quest World tour. Performing with Keiko are guitarist Chuck Loeb and saxophonist Kirk Whalum who also recorded with her the original Soul Quest (2013) album. The concert opens with Dream Seeker, the essence of their shared experience and knowledge. After the atmospheric intro, the song meanders in a delightful melody. Its lyrical narrative structure captures the listeners immediately.
Black Lion is named after a restaurant in Georgia with a unique story around a picture of Niko Pirosmani, who was suffering from a broken heart after a failed romance. While the original album version has an urban rhythm flow by long-time producer Derek Nakamoto, the live version has the main weight on her piano performance and Kirk's accompanying flute.
Forever, Forever is a piece from her solo piano album The Piano (2003). The soothing melody is emotionally touching and overall beautifully interpreted. Caricias from the album Moyo (Heart & Soul) released in 2007 has a strong Latin influence and lets shine Chuck Loeb on guitar and Keiko on piano in ambitious sequences.
Proof could be on a Fourplay album. There are many stylistic parallels to Bob James' piano finger style, with whom Keiko has already recorded the album Altair & Vega in 2011. Affirmation reminds me in parts of the American songbook. Keiko has taken the song from her album The Road (2011) and Kirk Whalum is prominently featured.
On the original album Soul Quest is divided in two parts, the first has a classical approach, while the second has a modern touch with a big dose of programming. The live version is consistent in itself and more balanced and even-tempered.
The bouncy Safari from the album Sapphire (1996) unites Keiko on keytar and Kirk on soprano sax. The keytar is a shoulder keyboard by Yamaha, she holds like a guitar and gives her the space to move onstage during the performance. Stingo is a tribute to the musical poet Sting. A piece by Keiko paying admiration and appreciation for Sting's life work.
Bridge Over The Stars from Dream Walk (2010) showcases anew her unbelievable mastery on the keys and her strong sense of timeless melodies. As encore Keiko plays Antarctica꞉A Call To Action, her personal call for prevention of the dangerous climate change. A Night With Cha Cha is a song dedicated to the clear, strong liquor also called Georgian vodka/grappa. She performs the uplifting song with great verve always a charming smile in her face. The album closes with Deep Blue from her same-titled album (2001) featuring Keiko on solo piano, sensitive, expressive and perfectly natural sounding.
Keiko's Live In Tokyo is for those, who do not own all her albums a great introduction to her body of work. Together with the DVD an unbeatable package.




Biography

Website


Buy the album in all stores

Album Information

Title: Live In Tokyo
Artist: Keiko Matsui
Year: 2015
Genre: General Jazz
Label: Shanachie Entertainment

Tracks:
1. Dream Seeker
2. Black Lion
3. Forever Forever
4. Caricias (ft. Chuck Loeb)
5. Proof (ft. Chuck Loeb)
6. Affirmation (ft. Kirk Whalum)
7. Soul Quest
8. Safari
9. Stingo
10. Bridge Over The Stars
11. Antarctica: A Call to Action (ft. Kirk Whalum & Chuck Loeb)
12. A Night with Cha Cha (ft. Kirk Whalum & Chuck Loeb)
13. Deep Blue


Further reviews: