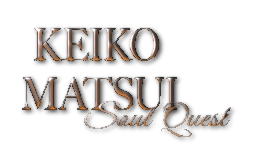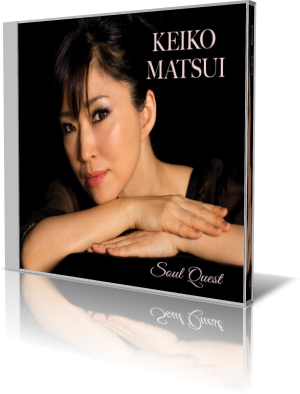 When a Japanese keyboardist has recorded more than 34 solo albums in America, one can say with complete justification, she is arrived. She made her debut in 1987 with the recording A Drop of Water. If you compare this album with the current, one can see the tremendous progress that she has completed all these years.
However, all of her albums have in common the goodness of heart with which she performs her music. It is significant then, that she does not speak about the quality of her music recordings, but the warmth with which she was received. "Chuck is a great producer and such a sweet human being. I got to spend time with his family and they are all beautiful, including his dog Annie and cat, Kit Kat," recalls Keiko laughing. "I never had that kind of peaceful environment during a recording."
Besides Chuck Loeb Keiko produced many songs on the album with drummer Narada Michael Walden. She was also joined by saxophonist Kirk Whalum and bassist Marcus Miller, among others.
Keiko and Chuck are both masters of their instruments, the piano and the acoustic guitar. Dream Seeker is the essence of their shared experience and knowledge. After the atmospheric intro, the song meanders in a delightful melody. Her lyrical narrative structure captures the listeners in a short time.
Each song has its own story. After a concert in Georgia she visited the restaurant Black Lion, where she was impressed by a picture of Niko Pirosmani, who was suffering from a broken heart after a failed romance. She captured this impression in the same named song supported by long-time producer Derek Nakamoto.
Sometimes the song title is the exact opposite of the content. Take for example Top Secret. It's the highest level except of classification of material on a national level. But this song needs the ultimate distribution, highly addictive.
A Night With Cha Cha is a song dedicated to the clear, strong liquor also called Georgian vodka/grappa. Keiko meets Narada Michael Walden on Moving Mountain and Antarctica--A Call To Action, two improvisatory pieces with a lot of onomatopoeia and feelings. Both songs are linked together to form an inseparable unit.
Soul Quest starts like a classical chamber piece with piano and cello. Not until the middle of the piece, it gets a kick. Proof approaches to the style of the group Fourplay. Not surprising when Chuck plays the guitar. Of course Keiko sets her own accent on the piano. This semi-classical profile also characterizes Two Hearts.
Stingo is a tribute to the musical poet Sting. A piece by Keiko paying admiration and appreciation for Sting's life work. How gladly would she perform with him?
Soul Quest is a welcome addition for all lovers of Keiko's music. Of which there are quite a lot.




Biography

Website


Buy the album in all stores

Album Information

Title: Soul Quest
Artist: Keiko Matsui
Year: 2013
Length: 0:49:33
Genre: General Jazz
Label: Shanachie Entertainment

Tracks:

01 Dream Seeker [5:48]
02 Black Lion [4:03]
03 Top Secret [5:47]
04 A Night With Cha Cha [5:31]
05 Moving Mountain [2:56]
06 Antarctica--A Call To Action [5:52]
07 Soul Quest [4:12]
08 Proof [5:01]
09 Two Hearts [5:49]
10 Stingo [4:34]



Further review: