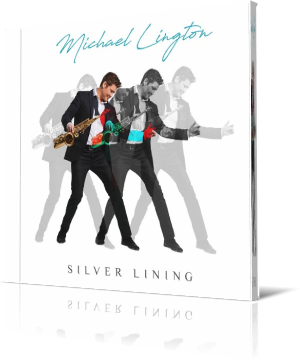 Denmark born saxophonist Michael Lington is a constant deliverer to the smooth jazz scene. Starting with his self-titled album in 1997 he continued with Vivid (2002), Everything Must Change (2002), Stay With Me (2004), A Song For You (2006), Heat (2008), Pure (2012), Soul Appeal (2014), Second Nature (2016) and Silver Lining (2018).
Michael Lington produced and composed the album together with keyboardist Barry Eastmond. Michael also attaches great importance to capturing the live atmosphere by inviting the participating musicians to record together in the studio.
In addition to Lingtonís alto sax and Eastmondís keys on all tracks, the musicians include Paul Jackson Jr. and Ray Parker Jr. on guitars, Freddie Washington and Alex Al on bass, Teddy Campbell on drums, Lenny Castro on percussion, and some other musicians like Jack Ashford on tambourine. The horns are arranged by Lester Snell and Barry Eastmond.
Lington has to tell a story and he articulates his words with captivating tones on City Life. Dave Stewart, former guitarist of the Eurythmics, raises his guitar voice to emphasize this musical message. Break the Ice cuts a fresh new musical path to Lington's playground: horns without limits. Scott Thompson on trumpet, Gary Topper on sax, Jason Yasinky on trombone, Kirk Smothers on bariton sax, gives this tune a real blast.
No matter why Michael titled the song Deja Vu, it has the certain groove like a Motown classic. Don't miss Carl Burnett's guitar solo in the middle of the tune. What the album really levels up is the soul stirring Curtis Mayfield classic People Get Ready featuring soul legend William Bell. Lington met Bell on the Memphis Music Hall Of Fame (to induct Saxophonist Charles Lloyd) and was so fascinated by his vocals, that Bell was Lington's first choice for his very own interpretation of this heartfelt soul ballad.
Silver Lining is a metaphor for optimism and this positive radiation is the main motif of this theme. Can't Say Goodbye is the manifestation of passion and devotion to nurture the values of the Gospel. M-Funk is not the title of the dominating notation of this tune in F-Minor. Instead Michael is riding on the trace of the 80's funk with Ray Parker Jr. on guitar as a decisive signpost.
Swingin' on Main Street connects to great melodies like Mercy,Mercy,Mercy or Birdland embracing the tradition of the swinging past. Dorian Holley is an exceptional talent as a singer and has long been recognized by the singing legends of the world. So Very Hard to Go gives a beautiful portrait of his vocal abilities.
Jaywalking could be a song of Hall and Oates. A powerful rock drive featuring Paul Jackson Jr. on guitar. Straight to the Top is a bravura finish with a strong Lington and wizard Barry Eastmond at the Hammond B 3.
The collaboration between Michael Lington and Barry Eastmond has fallen on fertile ground on Silver Lining. A stunning effort and one good reason to keep Michael Lington on the agenda.





Buy the album in all stores

Album Information

Title: Silver Lining
Artist: Michael Lington
Year: 2018
Genre: Smooth Jazz
Label: Copenhagen Music

1 City Life (feat. Dave Stewart) 4:54
2 Break the Ice 4:09
3 Deja Vu 4:43
4 People Get Ready (feat. William Bell) 3:50
5 Silver Lining 4:40
6 Can't Say Goodbye 4:16
7 M-Funk (feat. Ray Parker Jr.) 4:55
8 Swingin' on Main Street 3:50
9 So Very Hard to Go (feat. Dorian Holley) 4:28
10 Jaywalking (feat. Paul Jackson Jr) 4:03
11 Straight to the Top 4:50