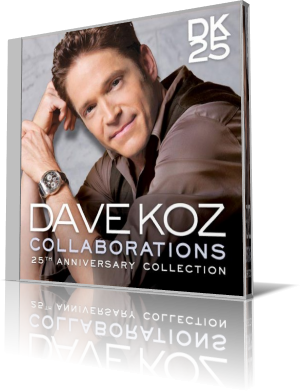 Dave Koz is one of the most popular smooth jazz artists worldwide. His cruises Dave Koz and Friends at Sea 2016 are already sold out. On September 22, 2009, Koz received a star on the Hollywood Walk of Fame. In December 2014, he opened Spaghettini & the Dave Koz Lounge.
His solo projects can be divided into four areas. His original composed albums, his Christmas albums, his cover albums and his collaborations. His new album Collaborations (2015) is a hybrid from the latter two. At the same time it's a thanks to a large number of partners who have made Dave to what he is today.
The 25th Anniversary Collection starts with Good Foot featuring Jeff Lorber. Jeff took Dave in his band, when he had just left college and encouraged him to his solo career. Dave and Jeff wrote the song some years ago and polished it up for the new album.
Dave Koz, Rick Braun and Kenny Lattimore is a top act which appeared on several events in summer and autumn this year. Their heat up is Jackie Wilson's killing song (Your Love Keeps Lifting Me) Higher and Higher with fantastic development possibilities for all three.
Dave Koz (soprano sax) and Boney James (tenor sax) paired on Dave's album Hello Tomorrow (2010) in the beautiful interpretation When Will I Know for Sure. The enthusiasm for the perfect song moved him to take him back into his new album. The Tower of Power song So Very Hard To Go features the great singer Michael McDonald, who fits perfectly with his expressive voice to the horn arrangement. Dave has taken the song from his album Summer Horns (2013) featuring Gerald Albright, Mindi Abair and Richard Elliot.
Singer Rod Stewart has released four albums covering The Great American Songbook. On Stardust, Volume 3 (2004) he presents (I Love You) For Sentimental Reasons with Dave Koz as featured sax player. Dave often performs with Rod on his world tours. The song was written in 1945 and this interpretation is near to the original. Let Me Count the Ways, a track from Kozís 1996 album, Off the Beaten Path is a culmination of emotional romance. Stevie Nicks (Fleetwood Mac) sings the background refrain.
Burt Bacharach's This Guy's In Love With You showcases trumpet legend Herb Albert, but the real sensation is Dave Koz, who sang for the first time lead vocals on this classic tune taken from Hello Tomorrow. 40 Years - A Charlie Brown Christmas (2005) was the reinterpretation of the original A Charlie Brown Christmas. On Linus and Lucy Dave performs with David Benoit in a jazzy Latin enhanced way.
One of Dave's greatest hits is Canít Let You Go (The Sha La Song) from his 1999 album, The Dance. Luther Vandross, one of the most supreme soul singer of all time sings the refrain sha-la and makes it together with Dave to a true masterpiece. The Beatlesí All You Need Is Love from Kozís The 25th of December, features Stevie Wonder, Gloria Estefan, BeBe Winans, Maysa, Jonathan Butler, Richard Marx, Johnny Mathis, Eric Benet & Heather Headley. One of the best choral renditions of this wonderful song hidden under a big pile of Christmas carols.
Scott Bradlee's Post Modern Jukebox is a rotating group of musicians producing covers of pop songs in the styles of jazz, ragtime, and swing. Dave recorded the jazz waltz version of Game of Thrones Theme (The Smooth Version) for a YouTube video with Scott Bradleeís group receiving millions of downloads that he placed it on this album. Country artist Toby Keith released on his 2009 album, American Rid the song Cryiní for Me (Waymanís Song), in memory of the late Wayman Tisdale. Toby invited Koz and Marcus Miller to record the song with him.
On Think Big! from Hello Tomorrow Dave inhales musical ideas of Dixieland, Smooth Jazz and Jazz approaching new soundscapes together with Christian Scott, Marcus Miller, Keb' Mo' & Brian Culbertson. Barry Manilowís 2001 concept album, Here at the Mayflower contains the song Apartment 2G: I Hear Her Playing Music featuring Dave on sax. This song was the start of their longtime collaboration. Let It Go the immensely fashionable song of praise from the 2013 Disney film, Frozen is newly interpreted by Koz in a bombastic arrangement.
Dave Kozís Collaborations: 25th Anniversary Collection sets a vivid testimony about the great range of this popular artist and his multiple relations far beyond the music business.




Biography

Website


Buy the album in all stores

Album Information


Title: Collaborations: 25th Anniversary Collection
Artist: Dave Koz
Year: 2015
Length: 1:06:26
Genre: General Jazz
Label: Concord Records


Tracks:
01 Good Foot [4:13]
02 (Your Love Keeps Lifting Me) Higher and Higher [4:01]
03 When Will I Know for Sure [4:50]
04 So Very Hard to Go [4:36]
05 (I Love You) For Sentimental Reasons [3:00]
06 Let Me Count the Ways [4:20]
07 This Guy's in Love with You [4:54]
08 Linus and Lucy [4:02]
09 Can't Let You Go (The Sha La Song)[4:17]
10 All You Need Is Love [5:41]
11 Game of Thrones Theme (The Smooth Version) [5:18]
12 Cryin' for Me (Wayman's Song) [4:46]
13 Think Big [4:58]
14 Apartment 2G: I Hear Her Playing Music [4:11]
15 Let It Go [3:18]




Further Reviews