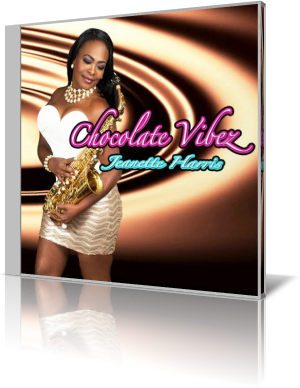 A big thank you goes to Jeanette Harris' supportive parents. On their J&M Record label (Jeanette & Michael's initials, Mom and Dad's funds) all her abums are released.
After her graduation in Berklee she started her debut album Here and There, followed by Jeanette Harris Live at Platinum Live (2003), Reflections (2007), Saxified (2010), Smooth Holiday Greetings (2010) and Summer Rain (2013). Now she is back with Chocolate Vibez (2016).
Multi-instrumentalist Harris performs most of the instruments on her new album. Guest musicians are pianist Tim Watson, music programmer Andrew Dorsette, guitarist Ceddrick Dennis, bassist Patrick Olvera and her brother Michael.
On Crown Royal Jeanette combines the emotive base of the composition with her skillful performance on sax and piano. Chocolate Vibez lives from the tension between quick hip hop beat and longdrawn sax tones amidst the powerful synth bass.
Foolin' Around is not like the title suggests, a try and error piece. On the contrary, it is thought out and refined. American R&B and jazz singer-songwriter Ledisi composed Alright for her third studio album Lost & Found. Jeanette interprets the song with a harmonic bliss and fine arrangement.
On Steppin' Out she works together with pianist Tim Watson, who brings some Philadelphia sound into game. Radio programmers should focus on Folkish, that shines with an oustanding melody. Dynamic flow, catchy songform and arrangement let you fall in musical exstacy.
The Way It Feels gives you a close encounter with singer Jeanette Harris and her foray into the R & B region. Sound Check features the programming art of Andrew Dorsette introducing some urban flair.
Square Biz is a song by American R&B singer Teena Marie from the album It Must Be Magic (1981). Jeanette keeps the retro mood of the old song. With her fresh arrangement and in collaboration with guitarist Ceddrick Dennis she makes it new cool. Shrimp & Grits has a funky live atmosphere with Patrick Olvera on bass, Michael Harris on drums and of course Jeanette in saxy attitude. The melliflous Peaceful Journey marks the final movement of this album.
Jeanette Harris is a musical force to be reckoned with. Chocolate Vibez renews my appreciation for what the real meaning of an universal musician is.




Biography

Website


Buy the album in all stores

Album Information

Title: Chocolate Vibez
Artist: Jeanette Harris
Year: 2016
Length: 0:46:02
Genre: General Jazz
Label: J&M Records


Tracks:
01 Crown Royal [4:14]
02 Chocolate Vibez [3:56]
03 Foolin' Around [4:31]
04 Alright [4:18]
05 Steppin' Out [4:01]
06 Folkish [4:08]
07 The Way It Feels [3:58]
08 Sound Check [4:06]
09 Square Biz [5:01]
10 Shrimp & Grits [4:14]
11 Peaceful Journey [3:36]





Further review:

Summer Rain