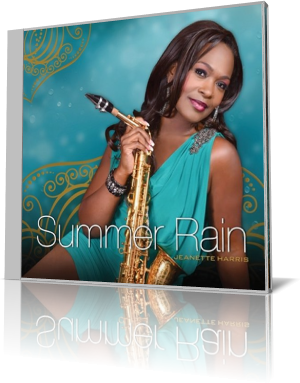 Jeanette Harris grew up in a musical family. Her love for the music was awaken by her church organist father. Influenced by the music of Grover Washington Jr. she switched from piano to saxophone as her favorite instrument. After her graduation in Berklee she released her first album Here and There on the J&M Record label.
Next albums were Jeanette Harris Live at Platinum Live, followed by Reflections (2007), Saxified (2010) and Smooth Holiday Greetings (2010). Her newest album is entitled Summer Rain (2013) and has received much praise from music critics.
The starting Just Keep Holding On shows the very feminine touch, with which Jeanette interprets her song. An astonishing sensuality heightened by great sensitivity.
Perfect mastery of the saxophone is perhaps surpassed by her compositional talent, as can be illustrated in the song Passing Time. Its no wonder, that Jeanette has written most of the songs on her album. Worth mentioning in this context is that Richard Elliot has also benefited from her genius for composition.
The fine tuning of the involved instruments also contributes to the success like on Take Me There. The title track is represented twice on the album. Of course there is also the hook, fascinating people. In the area of smooth jazz it is very popular, to include at least one Spanish-inspired song in the repertoire. Jeanette is with Muy Caliente no exception.
To promote the overall picture as jazz artist she has taken the contemporary jazz piece The Ride. The groovy Chillin' follows as delicacy for the smooth jazz fans. Here & Now adds a romantic note to the whole concept. The funky Oh So Good knows to pleasure the audience.
I do not be aware of what is behind the time 12:57. But the tune has a charming dramatic. Ja'licious is a good example of how Jeanette also masters the overdub process. Thankful and the bonus track are featuring soul crooner Joel Bowers. "We worked with Joel Bowers and I knew that's the guy I wanted to use," comments Jeanette and she is so right.
Jeanette Harris has all the prerequisites to start to the top with Summer Rain. She just needs the right supporters and she is already well on its way there.




Biography

Website


Buy the album in all stores

Album Information

Title: Summer Rain
Artist: Jeanette Harris
Year: 2013
Length: 0:54:54
Genre: Smooth Jazz
Label: Independent

Tracks:
01 Just Keep Holding On [4:03]
02 Passing Time [3:58]
03 Take Me There [4:09]
04 Summer Rain (Instrumental) [3:59]
05 Muy Caliente [3:49]
06 The Ride [4:21]
07 Chillin' [4:02]
08 Here & Now [5:23]
09 Oh So Good [3:53]
10 12:57 [3:59]
11 Ja'licious [4:14]
12 Thankful [5:05]
13 Summer Rain (Vocal) [3:59]