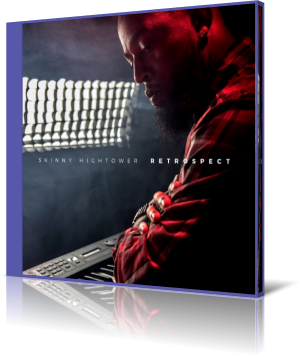 American jazz pianist, drummer, bass player, and producer Skinny Hightower is a smooth jazz powerhouse. After his debut album Cloud Nine (2016) and his label debut Emotions on Trippin 'N' Rhythm Records (2017) his new album Retrospect (2018) is the logical step towards his declared goal to achieve his greatness in the smooth jazz genre.
The credits of this album are briefly summarized: Skinny is the multi-instrumental genius with the focus on his Yamaha MX and P115 keyboards with organ, Fender Rhodes, explosive horn and string arrangements, flute, bass and deep percussion textures. Guest musicians are saxophonist Konstantin Klashtorni, guitarist Almon Johnson, drummer Nate Smith and vocalist Bebe Merrills.
Skinny Hightower reveals with pointed, powerful keystrokes on Sample That the music he stands for and which influenced him. Joe Sample, Bill Evans and Quincy Jones are his personal idols.
From the Heart lures your in the groove featuring saxophonist Konstantin Klashtorni who gives the right kick with his expressive play. California Dreams has nothing in common with the famous song of the Mamas and the Papas California Dreaming. The tune is entwined around a richly ornamented melody that branches itself out into numerous improvisations.
Next To You has a unique selling point in this project, because vocalist Bebe Merrills gives the song her grace and sweetness with her smoky voice. The title One Way Street speaks for a one-sided orientation of the piece, but Skinny achieves a mutual communication between him and the interacting audience with his piano playing.
Retrospect captures the spirit of musical innovation with fiery appointment of piano and organ. That's what it sounds like when you're not looking at the listener's taste. The Stylistics' People Make the World Go 'Round is changing in an eccentric way that offers completely new stimuli.
Hold On is Skinny's second collaboration with sax player Klashtorni which is characterized by mutual understanding and interaction. Seldom one can listen to such an interesting interaction between snare drum and piano. Stand Alone delivers a vibrant tension of both instruments, a high voltage of rhythm.
Bongo's Groove continues the rhythm enhanced performance in a deep drenched reggae funk groove. Time Marches On is a wisdom that can hardly be expressed in notes, Skinny chooses his own rhythm engraved approach.
Optimistic comes light and easy in a carefree style. The accentuated way of piano playing is also the dominant factor on Joyful Memories. Give him a dynamic groove and Skinny makes the best of it. Poppa J bases on a continuous rhythm on which the maestro happily improvises.
Skinny Hightower's album Retrospect is bursting with musical genius and a wealth of ideas. This album is like an adventure path through deep jungle, innovative, unexpected and intoxicating due to the numerous new discoveries it offers in every song.




Buy the album in all stores

Album Information

Title: Retrospect
Artist: Skinny Hightower
Year: 2018
Genre: Smooth Jazz
Label: Trippin 'N' Rhythm Records

1) Sample That (4:20)
2) From the Heart (4:15)
3) California Dreams (4:37)
4) Next To You (4:05)
5) One Way Street (4:41)
6) Retrospect Sonata (1:10)
7) Retrospect (5:13)
8) People Make the World Go 'Round (4:58)
9) Hold On (4:57)
10) Stand Alone (6:00)
11) Bongo's Groove (5:03)
12) Time Marches On (4:20)
13) Optimistic (4:40)
14) Joyful Memories (5:22)
15) Poppa J (4:32)



Further review:

Emotions