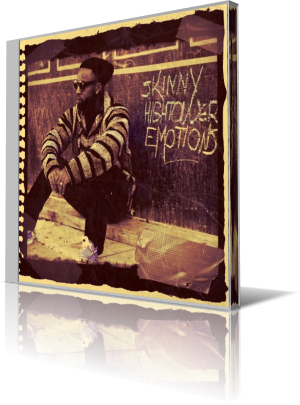 Although a practicing smooth jazz piano player Skinny Hightower prefers to listen to other styles of music like jazz and funk. That has yielded its first positive results. His debut album Cloud Nine (2016) received high acclaims. His second strike Emotions will be released on Trippin 'N' Rhythm Records May 26, 2017.
On his large foray into the smooth jazz genre he is accompanied by an armada of well known musicians such as Charlie Duran, Kool&Klean, Rock Hendricks (saxophone), Andrew Hawkley, Nick Colionne, David Stevens (guitars), Antonio Rivera (acoustic guitar), Julian Vaughn (bass), and Lin Rountree (trumpet, flugelhorn). Skinny Hightower performs on his sophomore project piano, drums, percussion, keyboards, bass and also serves the programming.
The album takes with Tender a fulminate start. The hypnotic rhythm creeps into your soul until it is a part of you. The melody is under constant energy between the magnetic poles Skinny on the keys and Charlie Duran on sax. The funky rhythm is also compelling pacemaker for the vigorous Emotions featuring Skinny, saxophonist Konstantin Klashtorni aka Kool&Klean and guitarist Andrew Hawkley in competitive overdrive.
On The Crossroad Skinny showcases his skills and musical range as highly gifted multi-instrumentalist, composer and arranger. His instrument of choice is the piano, which he rules in masterful empathy. Storms finds Skinny and saxophonist Rock Hendricks in a sophisticated dialogue and intimate setting.
Roses with Charlie Duran, Nick Colionne and Antonio Rivera as guest musicians are thornless and large flowered with the perfect smell of smooth jazz. Hightower is starting from the scratch, no notations, no reviews, no charts. As Taboo highlights, that doesn't bother him, he performs with pure passion. Julian Vaughn brings with Jubilee a special timbre into the game. He performs on this addictive tune the piccolo bass in the style of late Wayman Tisdale.
The smooth ballade Closer presents sax player Konstantin Klashtorni and Skinny in a mellifluous question and answer performance. Konstantin also accompanies Skinny with sax and flute on the track In The Moment designed with a splendid arrangement. Evolver starts with a classic approach before Skinny is joined by guitarist David Stevens, who brings in his specialty, guitar and voice big enough to cut through the clink of coffee cups and casual chit-chat.
Make Me Believe is expansive sound in waves and streams on a paved rhythm pattern. I Can't Help It was composed by Stevie Wonder and Susaye Greene (Supremes) for Michael Jackson's album Off The Wall. Hightower starts off the rhythm machine and expands his rendition with virtuosic agility. On Near Dawn he confronts a programmed rhythm with his syncopated piano play featuring Lin Rountree on muted trumpet in a sophisticated package.
Be Cool follows the same principle with a continuous rhythm in contrast to his jazzy piano excursion. The final Edge Of Forever transcends the piano performance from a melodic something to an improvisational everything.
Emotions is a goldmine of talent and Skinny Hightower is the experienced mine guide to this music treasury. His instinct and keen understanding for the ultimate groove is the best base for more to come.




Biography