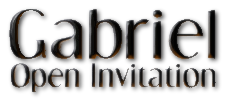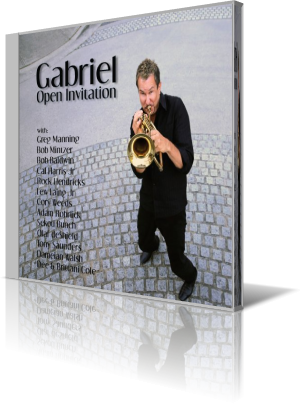 Born and raised in Denver, Colorado, jazz trumpet player Gabriel Hasselbach lives and works out of Vancouver, Phoenix, and New Orleans. His musical style is comparable with Rick Braun and Chris Botti.
Even though his fame still has room for improvement, he has played with a large number of smooth jazz musicians and in particular with the famous singer Michael Bublé. Although with several solo albums on his belt, his hunger for more is far from satisfied.
Fresh off the press comes his new album Open Invitation (2014), whose title will certainly be understood as an invitation to become familiar with his music. It makes sense that the long list of musicians who have recorded the songs with Gabriel is to see on the cover.
With exquisite perfection Gabriel starts his project and presents Count Me In. He receives support from multi-instrumentalist Adam Rohrlick who shares with Gabriel the passion for Vancouver. Greg Manning, who just makes a splash with his album Dance With You, is the featured artist on Propulsion. Gabriel and Greg fit flawlessly into the melody flow. The cite of Papa Was A Rolling Stone is intended.
Keyboard player Cal Harris Jr. worked for music giants like Earth Wind and Fire, Lenny Kravitz, Prince, Whitney Houston, and Beyonce. On the title track he makes it easy for Gabriel to shine. People in Vancover also know saxophonist Dameian Walsh, who shares his skills with Gabriel on the funky Init 2 Winit.
Gabriel played trumpet on Bob Baldwin's album Twenty (Chameleon 3000). Bob returns the favor on Charmed Life. Bob shows his mastery of the piano, Gabriel pulls on the same level. Lovelight features singer Dee and Brittani Cole. Gabriel recommends this R&B enhanced tune for candlelight dinners.
On Let's Do This Thang Gabriel presents guitarist and Vancouver resident Olaf de Shield, who loves that George Benson guitar/scatting mix. Powerfully and full of energy comes Let It Slide, a cool duet with saxophonist Bob Mintzer. Muted trumpet, trumpet, flute and sax are the musical weapons of choice. A festival of brass.
Aurora Borealis a natural spectacle of light. Saxophonist Rock Hendricks and Gabriel ensure the acoustic counterpart on the same titled tune. Another greatness of the jazz scene of Vancouver is saxophonist Cory Weeds, known as band leader, owner of Cory Weeds' Cellar Jazz Club and the record label Weeds. He takes with Gabriel a Carte Blanche.
Awareness is one thing, skill another. With Open Invitation becomes apparent that Gabriel hasn't to shy away from comparison with any other trumpeter in the world.




Album Information

1. Count Me In 4:36
2. Propulsion 4:10
3. Open Invitation 5:01
4. Init 2 Winit 4:47
5. Charmed Life 4:45
6. Lovelight 4:38
7. Let's Do This Thang 4:52
8. Let It Slide 5:10
9. Aurora Borealis 4:53
10. Carte Blanche 5:14