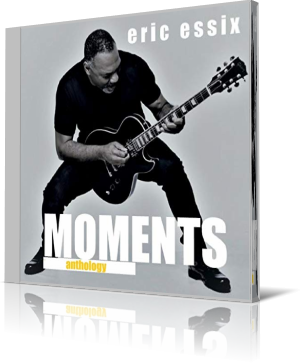 Recently I reviewed Eric Essix's album More with a survey of his already released works. A short time after this review he released his album Moments, an anthology of his previous albums spanning a period of three decades.
With Street Scene Eric shows his best side right away. A high infectious melody taken from the album Small Talk (2012). Greg Manning on piano adds a joyful groove and Melvin Butler on sax a mellow note. Steel is from Eric's album Birmingham (2009), the ode to his hometown. Birmingham was a great iron and steel producer in the decades after the civil war.
On Drive Time from Somewhere In Alabama (2004) Eric shines with a sing along guitar playing in the style of George Benson. The Distance is from Eric's self titled album (2012), which presents a special blues-rock attitude. Southbound is the title song of the album, which was released in 2000. Kelvin Wooten delivers a phenomenal accompaniment on piano and Hammond B3.
Footsteps in the Dark appears on the album The Isley Sessions (2014), a cover album of songs of the Isley Brothers. The amazing soul singer Frank McComb breathes new life into the song. His fantastic timbre and smoky voice is a real audible trademark.
King of the Castle from the album Move > Trio (2015) showcases another attitude of Eric's style portfolio, jazz funk as a so called creative outlet. The Blood Will Never Lose It's Power is one of the groundbreaking Gospel songs by singer, songwriter and pastor Andrať Edward Crouch. Eric Essix includes a rendition of this song on the traditional Gospel album This Train: The Gospel Sessions, 2016. The song is wonderfully interpreted by prolific vocalist Ruben Studdard.
When He Cometh is from Eric's album Abide With Me (2005). The hymn was originally written by William Orcutt Cushing, and transformed by Eric to a captivating contemporary guitar piece. Considering These Things from the album Evolution (2013) follows on from the social and political development that the city of Birmingham has undergone over the past 50 years.
Sparrow is the oldest tune of this anthology from the album The Modern Man Recordings, originally recorded in the 90's and re-issued 2003. Eric's early group consists of Matt Rohde on keyboards, Lil' John Roberts on drums, Melvin Butler on sax and Sean Michael Ray on bass. It was the time of live music with extensive solos in the jazz fusion style. The last tune on this album is I'm on My Way to Canaan Land, the second song from This Train: The Gospel Sessions, 2016. Kevin Whalum, the brother of saxophonist Kirk Whalum, mesmerizes the audience with his charming vocals.
Eric Essix's Moments contains a balanced mixture from his career as an established jazz guitarist, which contains numerous suggestions to deal even more intensively with his works.




Buy the album in all stores

Album Information

Title: Moments - Anthology
Artist: Eric Essix
Year: 2018
Genre: Smooth Jazz
Label: Essential Recordings

1 Street Scene 6:03
2 Steel 4:33
3 Drive Time 4:48
4 The Distance 4:51
5 Southbound 5:06
6 Footsteps in the Dark 5:32
7 King of the Castle 5:16
8 The Blood Will Never Lose It's Power 6:28
9 When He Cometh 5:32
10 Considering These Things 4:45
11 Sparrow 7:27
12 I'm on My Way to Canaan Land 7:21





Further review:


More