| | |
| --- | --- |
| Archive | |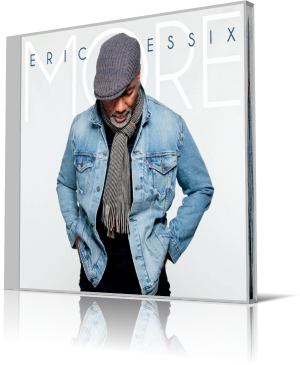 Eric Essix's decision to live for music was influenced by a Weather Report concert, which Eric attended in 1977. In 1988 he debuted with his solo album First Impressions followed by Second Thoughts (1991), Third Degree Burn (1993), Eric Essix & Modern Man, LIVE!, Beautiful Music, Guitar, Just Like You (1995), The Modern Man Recordings (1993-1994), Small Talk (1998), Southbound (2000), Blue (2002), Somewhere In Alabama (2004), Abide With Me (2005), Retrospective: Volume One (2006), Birmingham (2009), My Gift To You (2010), Eric Essix (2012), Evolution (2013), The Isley Sessions (2014), Eric Essix's Move > Trio (2015), This Train (2016).

His newest project, an anthology of songs from his recordings over the past three decades has not left the kickstarter level yet.

Instead Eric Essix is now promoting his second album, which he recorded this year, More. The album was written and arranged by Eric and produced by Kelvin Wooten, who also has written and arranged It's About Time. Eric performs on this album guitars, Kelvin keyboards, organ, bass, sitar, and Glockenspiel. Further musicians are Marcus Finnie (drums), James "PJ" Spraggins (drums, percussion), Sean Michael Ray (bass), Kelley O'Neal (sax, flute), and Kaleah Wooten (vocals).

The album starts with a piece that carries the profane title Congestion. While this describes an undesirable situation, the song itself gives no cause for complaint, because everything is in flux. Funky, sexy, James Brownish that are the attributes fitting to Wooten's It's About Time. In addition Eric gives this tune some extra dose of Rock. To the end the song slows down to a relaxed state of elegance.

Stylistically Eric Essix is very variable and flexible. On More he tends to the acid jazz genre like artists as Ronny Jordan. Jimmy Webb created Wichita Lineman in 1968. Glenn Campbell made the song popular for the first time. The original has a high emotional impact. However Eric's rendition can really make your soul swing.

The Triumphant is probably the closest you get to a live play. Although more than seven minutes long, Essix' guitar keeps you spellbound, so you'll be amazed at the ending. Mac shows some real deal flavor on guitar and keys. Shake It Up delivers retro funk with Kelley O'Neal on sax and Kelvin Wooten on organ.

And Justice for All seems to be intended as an appeal, but the musical realization speaks more for a romanticizing episode. A rare instrument can be heard, the sitar. Three Speech celebrates the intimate togetherness between guitar, bass and jazz drums.

The key elements on Eric Essix's album More are the melodies. The focus is of course on the electric guitar but the harmony of all instruments makes this album so remarkable.


Buy the album in all stores

Album Information

Title: More
Artist: Eric Essix
Year: 2018
Genre: Smooth Jazz
Label: Essential Records

Tracks:

1 Congestion 7:23
2 It's About Time 5:36
3 More 5:11
4 Wichita Lineman 6:08
5 The Triumphant 7:34
6 Mac 5:27
7 Shake It Up 5:43
8 And Justice for All 5:48
9 Three Speech 4:58