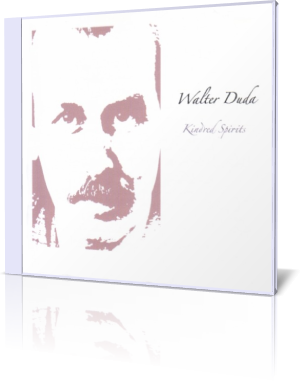 Bridgeport native Walter Duda is a smooth jazz veteran, who excels with great contributions to the smooth jazz world. Daylight Again (2000) was his first album with the focus on piano. In 2005 followed Sole Intention, 2008 Notes From The Coast and 2011 Kindred Spirits. All albums are released by Walter's label World Alert Records and distributed via Orchard.
"I dedicate the cd to the many musicians who have inspired and influenced me (Brian Auger, Michael Franks, Mose Allison, Brian Wilson, George Duke, Dion, Marvin Gaye, Yes, King Crimson and many others). We are all kindred spirits!"
Walter composed all songs on his new album. The album was co-produced by Grammy Award winning producer Jeff Jones. Featured musicians are Will Lee and Steve Clarke (bass), Chris Parker, Johnny Montagnese and Joel Rosenblatt (drums), Al Ferrante and Tim DeHuff (guitars), Chris Herbert (flute) and the Harris Brothers (horns).
"I am pleased to have such professional musicians as Will Lee, Chris Parker and Bill & Don Harris record my music, as well as other talented players," comments Duda. "I recorded my piano parts at home and Will Lee's bass tracks in New York City on my Yamaha AW2816 and the horns and drums were recorded at Carriage House studios in Stamford, CT."
Most of the above mentioned musicians also performed on his previous album. A sign for the perfect collaboration and friendship between these fellow musicians. As a songwriter, Walter has been influenced by many artists, including Michael Franks, Mose Allison and Bobby Caldwell. You'll hear those influences first hand as Walter Duda opens the 2010 Branford Jazz on the Green Series at July 1!
He'll certainly present songs of his new album, which will enthuse the audience. For The Time Being transfers you right into Walter's piano world. Walter's affinity for beautiful melodies finds its expression in his careful and cozy arrangements. On Cryptic Prophecy Walter presents his vocal and writing skills walking in Michael Franks' footprints. Duda informs: "My vocals were recorded with a Neumann Berlin microphone-model TLM 102."
With the instrumental piece Un-Rapped Present he enters the contemporary jazz realm. Remarkable is the clean recording of all musicians avoiding overdubs and other technical tricks. That way the sound is vivid and vibrant. Simple Remedy is another love ballade presenting the singer Walter Duda. Tim DeHuff lets the song shine with his guitar performance followed by Bill Harris' pulsating sax solo.
Kindred Spirits are people that you connect with on a deeper level than just basic intellectual and emotional interaction. That is the atmosphere between all musicians of this recordings with the musical expression on this album. Programmed Lies shows anew the fantastic interaction between the band members.
Equal Time is Walters devoted heartfelt ballade to his beloved woman. Walter's potential is certainly the instrumental part as he proves in Complex Circumstances, without any doubt the best piece on this album.
Walter Duda's melodic jazz is an extraordinary warmth yet elegant musical approach to what we define as smooth jazz.




Website


Album Information

Title: Kindred Spirits
Artist: Walter Duda
Year: 2011
Length: 0:39:21
Genre: General Jazz
Label: World Alert Records


Tracks:

01 For The Time Being [5:03]
02 Cryptic Prophecy [4:19]
03 Un-Rapped Present [4:24]
04 Simple Remedy [4:57]
05 Kindred Spirits [5:20]
06 Programmed Lies [5:26]
07 Equal Time [5:33]
08 Complex Circumstances [4:20]

Further Reviews