Walter Duda - Notes From The Coast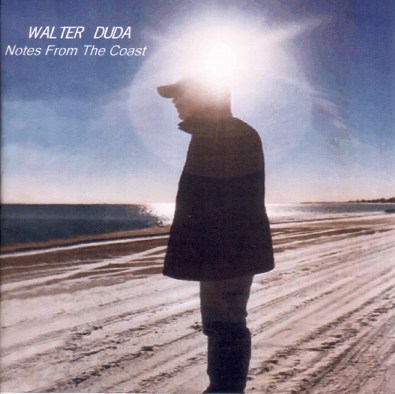 Walter Duda is a self-taught musician with a rich musical experience. Walter has performed in many legendary New York City clubs including Catch A Rising Star, The Bitter End, Mikell's and Seventh Avenue South. He has appeared on Manhattan Cable, Cablevision of Connecticut and Century Cable in Los Angeles.
He started his solo career with Daylight Again (2000) presenting himself as a splendid piano man. In 2005 followed Sole Intention and in 2008 Notes From The Coast. All albums are released on Walter's record label World Alert Records.
Walter's third project is joined by Tim DeHuff (guitar), John Tropea (guitar), Steve Clarke (bass), Scott Spray (bass), Will Lee (bass), Bill Harris (sax), Chris Herbert (sax), Thierry Arpino (drums), Glenn Mariconda (drums) and Chris Parker (drums, drum programming). All songs are written by Walter Duda which is certainly an indicator for originality.

Walter Duda introduces in his work with Rapless Rhapsody, a seemingly performed tune with ease and graced by Tim DeHuff's guitar riffs. Tim performed and recorded with Main Ingredient, Alfonse Mouzon, Lee Ritenour, Dave Grusin, George Duke, David Benoit, John Klemmer and Victor Feldman to name a few. So you get an imagination of the top quality of this guitarist.
On velvety paws moves Long Term Memory on its way. Single piano chords show the direction. The mid-tempo title tune Notes From The Coast is build on a simple melody refrain. The Chance is a romantic ballade, something for the red-wine-and-fire-side chat.
Face To Face sweetens your day with a mellow and unobtrusive melody. Did you get your musical Lollipop today? Duda is on the quest of the melodious feeling with This Feel. His piano performance is ambitious and full of amazing sequences.
Featured sax player on Fortune Teller is Bill Harris. Bill has more recently been pursuing a career as a soloist and as the other member of the "Harris Bros Horns" and newly-formed "Harris Bros Band" with his trumpet player brother, Don Harris. For more than three years Don and Bill have been part of the Warren Hill Band and performed on the Smooth Jazz Cruises.
Fooled No More is presenting soprano sax player Chris Herbert. He had multiple performances and/or recordings with Norman Connors, D'Angelo, Digable Planets, Keith Robinson and more. Chris already played on Walter's album Daylight Again.

Chris Parker's drums are a propelling act on Head In That Direction while Walter fills the cap with ground taking chords on his piano. Edgy and close to live performance. Last tune on this album is Funktioning Smoothly, a funky piece with a big bunch of top-notch musicians, already on the turntable of many Djs worldwide.
The smooth jazz Indy scene is still vivid and full of energy. Notes From The Coast gives evidence for this fact.



Bio

Website

Buy the album at

Title: Notes From The Coast
Artist: Walter Duda
Year: 2008
Length: 47:41
Genre: Smooth Jazz
Label: World Alert Records

Tracks:

Track: 01 Rapless Rhapsody [5:23]
Track: 02 Long Term Memory [5:07]
Track: 03 Notes From The Coast [5:08]
Track: 04 The Chance [4:51]
Track: 05 Face To Face [4:48]
Track: 06 This Feel [4:01]
Track: 07 Fortune Teller [4:36]
Track: 08 Fooled No More [4:22]
Track: 09 Head In That Direction [5:06]
Track: 10 Funktioning Smoothly [4:25]