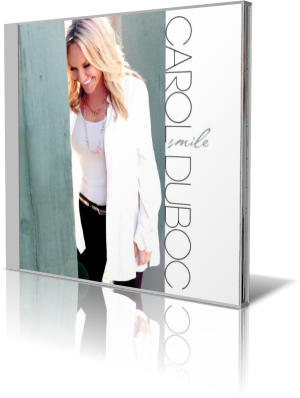 Carol Duboc is performing in the smooth jazz scene since 2001. That year marked the release of her debut album With All That I Am. Already a year later she released her self-titled sophomore album Duboc followed by All Of You (2005), Songs for Lovers (2008) and The Burt Bacharach Songbook (2009).
This year Carol returns with her new album Smile. The remarkable thing about this album is the star cast of accompanying musicians. Jeff Lorber (keyboards, Moog & guitar), Vinnie Colaiuta (drums), Brian Bromberg (acoustic bass), Jimmy Haslip (electric bass), Hubert Laws (flute), Michael Thompson (guitars), Luis Conte (percussion) and Tim Carmon (piano).
The album is a collaboration between Carol and Jeff Lorber, who co-wrote and co-produced the complete album with her. The album starts with the quite attractive piece Elephant. With instrumental accompaniment at the highest level Duboc likes in a jazzy attitude.
With Smile she spreads her message from her own bitter experience. The interpersonal relationship plays an important role in Duboc's life, which she processes with Unpredictable. She flirts thereby with Corinne Bailey Rae's vocal style. For women, the opposite sex is often full of mystery. With a bit of Telepathy, it would certainly be a bit easier. Carol is scatting on Hubert Laws' flute solo.
After the loss of her great love Carol remains with Atmosphere only a hint of memory. Michael Thompson's sensible guitar performance has a touch of Carlos Santana. Airiness and lightness are characterizing the Latin tinged Parachute aptly supported by Hubert Laws on flute. Behind A Kiss and Gliding are gentle feel-good ballads.
Nobody Knows is a further vocal recital with which Carol handles her personal disaster. A great Aftersong on love. On Mythological sings Carol that the stories are been told. But the memory still hurts.
Smile is not just an album for abandoned women. Of course, the album is a piece of processing of a psychological trauma, but Carol has developed her own form of expression. This results in the high entertainment value.




Biography

Website


Buy the album in all stores

Album Information

Title: Smile
Artist: Carol Duboc
Year: 2013
Length: 0:42:50
Genre: General Jazz
Label: Gold Note Music


Tracks:

01 Elephant [3:50]
02 Smile [3:46]
03 Unpredictable [4:03]
04 Telepathy [3:50]
05 Atmosphere [4:31]
06 Parachute [5:11]
07 Behind A Kiss [5:01]
08 Gliding [4:48]
09 Nobody Knows [4:07]
10 Mythological [3:44]