Eric Copeland – The Jazz in Me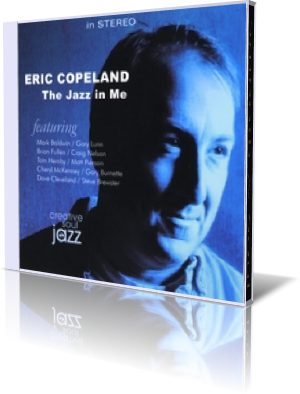 Eric Copeland crossed my way for the first time with his debut album Cooler (1999), a jazzy, gospel-tinged product with cool jazz grooves, gospel scat-like vocals, and synth texture. Eric was infected by Jeff Lorber's music and his future destination has been marked out as producer, keyboardist, and songwriter. His sophomore album Stolen Moments (2000) was followed by The Jazz in Me in 2008.
Recently Eric produced for his label Creative Soul Jazz Drew Davidsen's new album Around (Again). He also performed on this album keyboards, vocals and programming.
Eric comments his own album: "I've found that my love for jazz is deeper than just a genre or niche my music happens to fall under. The elements that make up jazz: improvisation, composition, rhythm, melody, structure, harmony, repetition...these are things that are part of everything I do, not just music..."
The album starts with Eric's confession, The Jazz in Me. More Miles than Coltrane Eric sings and swings along the melody like his idols he mentions in this fantastic song. Phenomenal good are also Brian Fullen on drums, Craig Nelson on acoustic bass and Tom Hemby accompanying the maestro in an elegant and subtle way.
My Steps Are Ordered mirrors Eric's Christian attitude. "I don't know if we each have a destiny, or if we're all just floating around accidental-like on a breeze, but I, I think maybe it's both..." Gospel music and jazz in a divine combination.
Softly & Tenderly is a Gospel standard since 1980 and was often recorded by many artists, among them Elvis Presley and Johnny Cash. Eric Copeland delivers a jazzy emotional interpretation. Outstanding Gary Lunn on electric bass and Mark Baldwin on guitar.
On The Side showcases the lighter side of Eric Copeland's instrumental music. Designated for your summer entertainment.
Jazz is often associated with the color blue. Jazz habitually uses blue notes. A blue note is a note sung or played at a slightly lower pitch than that of the major scale for expressive purposes. In The Key Of Blue follows this imagination, somehow lonesome and melancholic.
In Between Dreams is a song about a searcher, who has no clue what comes next, but is confident to find the right path with God's help. Dave Cleveland (guitar), Matt Pierson (bass) and Eric discover the answer. Keyboardist Copeland owns with the colorful El Caribe the hearts of all listeners.
When She Returns tells about the run away of a beloved woman and her blissful return. With great sensitivity and understanding Eric instrumentally reproduces his vocal recitation.
Eric originally composed Come To Me for Sienna's debut album Steps, which was released on his label in 2003. He transfers this soulful melody to an awesome instrumental rendition.
The Christian hymn Have Thine Own Way receives on Eric's album a new brilliant contemporary jazz approach. Just As I Am is a further well-known hymn interpreted by Craig Nelson on bass and elaborated by Eric on piano with atmospheric reverb.
Sophisticated like Randy Newman (Short People) Eric Copeland presents his own view of life with a special humor. His narrative power is only matched by his Christian passion and his jazz virtuosity. Unique, forceful, worth listening to.




Eric Copeland - Websites



Buy the album




Album Information

Title: The Jazz In Me
Artist: Copeland, Eric
Year: 2008
Length: 0:53:47
Genre: General Jazz
Label: Creative Soul Jazz


Tracks:

01 The Jazz In Me [5:18]
02 My Steps Are Ordered [3:41]
03 Softly & Tenderly [5:16]
04 On The Side [5:18]
05 In The Key Of Blue [5:48]
06 In Between Dreams [4:50]
07 El Caribe [4:38]
08 When She Returns [5:06]
09 Come To Me [3:33]
10 Have Thine Own Way [5:33]
11 Just As I Am [4:46]