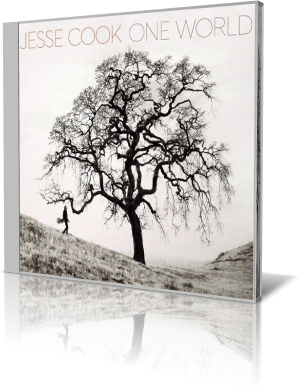 Paris-born, Toronto-raised guitarist Jesse Cook is known for his special mixture of flamenco and jazz flavored with special world music. This musician takes the term world music literally.
For his previous album The Rumba Foundation (2009) he flew down to Colombia and worked with a group called Los Gaiteros de San Jacinto. His new album One World (2015) is focused on Constantinople, the ancient name of the modern Turkish city Istanbul.
With Jesse perform Chris Church (all sort of strings), Chendy Leon (percussion), Anwar Kurshid (sitar), Amy Laing (cello), Drew Jureka and Rebekah Wolkstein (violins, violas).
On the beginning Shake rules a triumvirate of acoustic guitar, percussion and strings. While percussion emphasizes the rhythmic element of the guitar, the violin sets its own accents. On Taxi Brazil share percussion and guitar duties and unite into a danceable whole.
Quiet relaxation spreads at Once. The guitar distributes radiant shards of romance. The violins underline the impression with a second voice. Bombay is the vibrant center of India. An inferno of activity. Bombay Slam is Jesse's tribute to this conglomeration of human life. To Your Shore brings us back Jesse, the guitar charmer, in ballad status.
With Three Days Jesse takes the focal point inwards. The emotional of his guitar gets full effect here. On Tommy And Me Jesse Cook meets Tommy Emmanuel, who like Jesse can entertain a great audience as solo guitarist. This song combines two finger style virtuosos with different tones in total harmony. When Night Falls unveils apparently the expressive flamenco affinity of this guitarist.
According to Wikipedia Steampunk refers to a subgenre of science fiction and sometimes fantasy that incorporates technology and aesthetic designs inspired by 19th-century industrial steam-powered machinery. Steampunk Rickshaw melts modern music style with Indian folk music by conventional understanding. An explosive mix with a lot of energy.
Beneath Your Skin explores the emotional depth of guitar music with a lot of feeling. The second half of the piece drifts into exotic sound with immense vigor. The final tune Breath features the magic of the Armenian duduk, a flute resonating with your soul.
Jesse Cook's One World is not just an instrumental album. There are vibrations that move something in your heart. Thus growing awareness that we have only one world, a fragile treasure.



Biography

Website


Buy the album in all stores

Album Information

Title: One World
Artist: Jesse Cook
Year: 2015
Length: 0:43:36
Genre: General Jazz
Label: eOne Music


Tracks:
01 Shake [3:41]
02 Taxi Brazil [2:55]
03 Once [5:05]
04 Bombay Slam [3:38]
05 To Your Shore [3:40]
06 Three Days [3:58]
07 Tommy And Me [4:12]
08 When Night Falls [3:35]
09 Steampunk Rickshaw [5:26]
10 Beneath Your Skin [4:38]
11 Breath [2:48]




Further review: