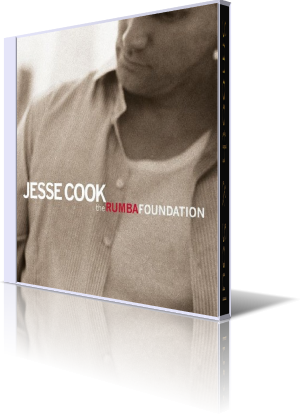 Tracing the roots of Jesse Cook there is much to discover. Born in Paris Jesse soon developed a strong affinity for the Flamenco music of the gypsies. After his parents separated, Cook accompanied his mother and sister to Canada, his mother's birthplace. While he continued his studies in classical and jazz guitar at some of North America's most prestigious music schools, he stayed in contact with the music of his childhood.
In fifteen years he released seven studio albums. After the debut album Tempest (1995), followed Gravity (1996), Vertigo (1998), Free Fall (2000) and Nomad (2003) on Narada. In 2004 he published the live-album Montréal and in 2007 Frontiers, both on EMI. Now he is back with his album The Rumba Foundation.
The album was recorded in two parts, in Toronto Jesse was supported by Rosendo (Chendy) Leon JR. (Drums and Percussion), Chris Church (all Violins, black Violin), Drew Birston (Double Bass), Dennis Mohammed (Bass), Rosendo (Chendy) Leon SR. (Bongos), Juan De Sedas (Accordion), Kevin Fox (Cello), Jonathan Tortolano (Cello), William Arivalo (Caja and Guacharaca), Jeremy Fisher (Vocals), in Bogota by the group Los Gaiteros de San Jacinto.
"I flew down to Colombia and worked with a group called Los Gaiteros de San Jacinto. They won a Latin Grammy back in 2007. They play traditional music known as Vallenato and they make all their own instruments by hand including gaitos flutes. I learned these flutes are always played in pairs and in only one key. They are doing it old school," comments Jesse Cook.
Bogota By Bus is a fantastic journey into the vibrant music world of South America. Jesse involves the impressions of the long bus trip and Los Gaiteros add the typical flavor of the country. Santa Marta is a festival of infectious Latin music melting Cook's guitar virtuosity with the local color fiction of Los Gaiteros. 'I don't think it's ever been done before," says Cook. "The sound is just so beautiful and so intoxicating to me. But, blending these styles also speaks to their shared roots."
With the romantic Tuesday's Child Jesse injects an acoustic guitar tune with an emotional impact. On Manolo's Lament Jesse returns to the South American sound, which I personally love since the time of Simon and Garfunkel and their world hits Cecilia and El Condor Pasa. No wonder that Jesse recorded his own rendition of Cecilia, sparkling every note of this magnificent song.
Framed by two improvisations Jesse shines on La Rumba D'el Jefe. An amalgam of rumba flamenco with Cuban son music featuring Chris Church on violin. Gaita is the Spanish name for kuisi, a Native American fipple (or duct) flute made from a hollowed cactus stem, with a beeswax and charcoal powder mixture for the head, with a thin quill made from the feather of a large bird for the mouthpiece. The rhythm enhanced tune has the essence of the famous Lambada.
The contemplative Rain Day gives time for recreation and a retrospective in one's own live. When you approach Bombay by airplane, you smell the dirty air before the airplane is landed. Nevertheless in spite of dirt and poverty Bombay is full of attraction and verve. Bombay Diner mirrors the pulsing city life of Bombay.
Afternoon at Satie's has its surreal element. While rhythm and guitar play are Flamenco oriented, the piano play stays in reverb and builds no relationship to the melody. Homebound presents a haunting duet between Jesse's acoustic guitar and Chris Church's violin. A melancholic song creating the perfect ambience for two lovers.
Jesse Cook's album is crisply performed guitar music back with a mix of world influence by Los Gaiteros with waves of percussion and emotion. A precious perl of world music of a real guitar master.




Biography

Website: Jesse Cook

Buy the album in all stores



Album Information

Title: The Rumba Foundation
Artist: Jesse Cook
Year: 2009
Length: 0:43:07
Genre: General Pop
Label: E1 Music


Tracks:
01 Bogota By Bus [3:06]
02 Santa Marta [3:49]
03 Tuesday's Child [4:00]
04 Manolo's Lament [3:31]
05 Improv 1 [0:27]
06 La Rumba D'el Jefe [3:37]
07 Improv 2 [0:16]
08 Gaita [4:45]
09 Rain Day [3:28]
10 Bombay Diner [4:20]
11 Afternoon at Satie's [3:17]
12 Cecilia (Featuring Jeremy Fisher) [3:46]
13 Homebound [4:44]