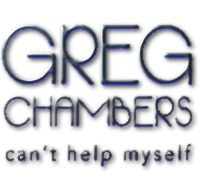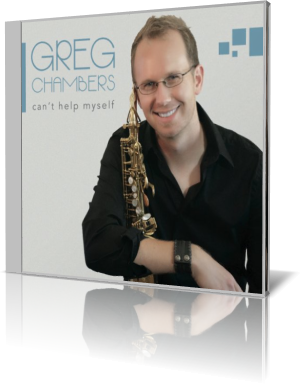 After he recorded his debut album City Lights in 2006 and his self-titled album in 2011 some years passed by. Now sax player Greg Chambers returns with Can't Help Myself (2014). Guest musicians on this album are Julian Vaughn, Nils, Nate Harasim, Paul Brown, Kevin Lewis and Matt Godina. Quality is guaranteed.
The title song is a collaboration with producer Nate Harasim, who also delivers keyboards, bass, synth and drum programming. Greg takes the lead on alto sax, while Nate adds the groovy things. A hooking song from the start.
In The Moment features Julian Vaughn on bass playing with Greg in a double. The attractive melody is filled with funky stuff by Matt Godina. So Into You shows not only Greg as intuitive performer but also as great composer and arranger.
Off The Cuff presents keyboardist Nate Harasim and guitarist Nils with lively contributions while Greg demonstrates the many sides of his expression between gentle and energetic. American R&B duo K-Ci & JoJo recorded their hit All My Life in 1997. Greg and singer Jalen Seawright showcase an adequate rendition with marvelous emotional power.
With Saturday Afternoon the lightness of being returns. A piece of merriment. The participation of guitarist Paul Brown on It's On remains cautiously in the background. More in the foreground next to Greg's sax is Andrew Schultz on trombone. Greg's passion for gentle ballads could be detected on Come A Little Closer and Lovely.
More flow he allows the following piece Wait Awhile, on which he proves himself as excellent multi-instrumentalist. With Dreaming Of You he sets an emotional final accent, that will be remembered.
Naturally Greg Chambers want to be different from all other saxophonists. On Can't Help Myself he comes across as great charmer credible because of his empathy and authenticity.




Album Information

Title: Can't Help Myself
Artist: Greg Chambers
Year: 2014
Length: 0:43:46
Genre: Smooth Jazz


Tracks:
01 Can't Help Myself [3:57]
02 In The Moment [4:09]
03 So Into You [4:25]
04 Off The Cuff [3:44]
05 All My Life [4:08]
06 Saturday Afternoon [3:37]
07 It's On [4:46]
08 Come A Little Closer [3:58]
09 Lovely [4:55]
10 Wait Awhile [3:50]
11 Dreaming Of You [2:16]




Further review