Gary Carpenter – Tierra Madre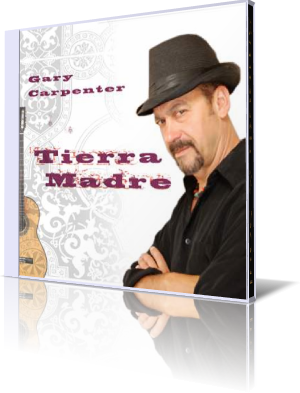 Gary Carpenter gives the term World Music a new sense. He melts the best ingredients of all continents to that magical brew which fascinates the audience. After his move to the Bay Area he founded the formation Montage, he also worked with the group Compass and with Blue Note recording artist, Samba Ngo and with MC Rai.
He started his solo career with the high-acclaimed debut album Sirena (2007). His new project is entitled Tierra Madre (2009). Gary Carpenter, who also produced, arranged and composed the album, plays Spanish acoustic guitar, electric guitar, keyboards and keyboard bass. He is accompanied by
Renalto Annichiarico (percussion, drums, vocals), Kieth Graves (bass and drums on Windrunner - drums and background vocals on Rumba La Playa), Gary Regina (sax) Alan Peeves (piano solos), and
Victor Reveer (stand-up bass).
Bass driven the album starts with The Seer showcasing Gary Carpenter's skills in Flamenco guitar and World music. Renalto Annichiarico peppers the melody with furious conga beats.
With the Spanish flavored Rumbatheque both musicians reveal their romantic vein and affinity for catchy melodies and superior guitar technique. Hero's Journey offers more percussive world music with Latin provenance.
On Tierra Madre Gary Carpenter paints out a melodious picture of magical southern countries. With Global Dance he goes back to the roots of Flamenco music. Flamenco grew out of the unique interplay of native Arabic, Andalusian, Sephardic, and Gypsy cultures that existed in medieval Andalusia.
As borne on wings approach Flawed Angels. Secret Place features Johnny Fabulous' spoken words and Gary Regina's expressive sax, designated as chart topper on the smooth jazz charts. Native Born is a further musical document for Gary's unbreakable affinity for Latin guitar music.
Rumba La Playa will certainly reach the audience like Carlos Santana did in Woodstock melting percussion and guitars. Ride the great prairie with Windrunner. On Temples In The Mist Gary takes you on a journey to Asia. While the use of instruments like Shakuhashi and Tablas evoke Asian impressions Gary's melody line still garners Latin influence.
Tribal Heat is the ultimate outbreak of the group in the twilight zone between New Age, World Music and experimental fusion jazz. With Better Demons Gary Carpenter returns to the Flamenco realm, his musical home.
Tierra Madre is Gary Carpenter's sight of the world and his current musical status, versatile and multi-faceted like his debut album.




Album Information

Title: Tierra Madre
Artist: Gary Carpenter And Tribal Heat
Year: 2009
Length: 0:47:10
Genre: General World
Label: Gary Carpenter

01 The Seer [6:52]
02 Rumbatheque [4:00]
03 Hero's Journey [4:34]
04 Tierra Madre [4:16]
05 Global Dance [4:35]
06 Flawed Angels [2:38]
07 Secret Place [5:48]
08 Native Born [4:41]
09 Rumba La Playa [4:30]
10 Windrunner [6:40]
11 Temples In The Mist [6:10]
12 Tribal Heat 6:11]
13 Better Demons [4:18]