Gary Carpenter and Tribal Heat - Sirena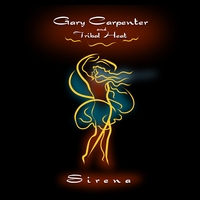 Smooth Jazz has many musical interfaces. Soul, New Age, Pop, R&B and also World Music. Gary Carpenter is a typical example of a musician wandering between these styles. Starting at age sixteen with Indian Raga/ rock fusion, working with the world fusion band Montage and artists like Compass, Samba Ngo, Sista Monica and MC Rai underlines his multifaceted skills.
Sirena is Gary Carpenter's debut solo album. Gary wrote and performed all tracks: "I put melody, arrangement and composition first and then integrated the guitar. It's not just a "riff fest", but rather an all around fun musical experience. With Renato's assistance, we then combined World/Latin rhythms with hip-hop and electronica grooves to create something new, fresh and an exciting addition to the World Music genre".

Gary Carpenter is supported by Renalto Annichiarico (percussion, drums, vocals), Murrey Low (piano, keyboards), Liz Raquelle (lead vocals on Serenity) and Steve Uccello (contrabass on Partenope). First track is Akumal Bay, a Latin tune with Flamenco appeal. Hot guitar licks combined with a peppery conga beat make this tune really danceable.
Serenity features Liz Raquelle in the role of a longing woman. Please, come back to me is her devotion. Reggae bass, Flamenco guitar and a tribal beat is mixed to an irresistible stuff.
Oracle Dancer stands in the tradition of Enigma and other great world music groups. The tune also sweeps into the oriental music during the bridge. A fantastic arrangement. Excellent for a film score of adventure movies.
Friends of percussion will find many delicious fruits especially Conga Walk. Renalto Annichiarico shines as singer and percussion player in great accompany of Gary and his Spanish guitar.
Chaimala Gypsy is certainly Cary Carpenter's dance floor breakthrough. Fascinating this dynamic rhythm, the pushing synth loop and above all Gary's furious Flamenco guitar.
Las Sirenas (The Sirens) were three dangerous bird-women, portrayed as seductresses, who lived on an island called Sirenum scopuli. Seductive like the vocals of the Sirens is Gary Carpenter's acoustic guitar. A festival of Spanish Guitar and percussion.
Raised By Wolves encompasses the untamed nature of wilderness. The haunting Shakuhashi is decorated with electronically gimmicks for and after underlining the acoustic guitar motif.

Partenope was one of the sirens of the Greek mythology. This tune showcases the brilliant Murrey Low on piano and of course the magician of conga Renalto Annichiarico. Dance Of The Corteseans finishes the album with superb Latin guitar sounds.
Sirena is burning guitar fire, exhausting musical ecstasy, rhythmical ectoplasm. Smooth jazz world music at its best.




Title: Sirena
Artist: Gary Carpenter And Tribal Heat
Year: 2007
Length: 0:47:10
Genre: General World
Label: Gary Carpenter


Tracks:

01 Akumal Bay [5:00]
02 Serenity [6:20]
03 Oracle Dancer [4:44]
04 Conga Walk [4:48]
05 Chaimala Gypsy [6:52]
06 Las Sirenas [3:52]
07 Raised By Wolves [4:28]
08 Partenope [5:32]
09 Dance Of The Corteseans [5:34]