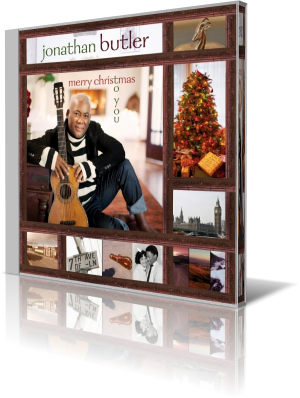 The early bird gets the worm. Keeping that in mind a Christmas album in October shouldn't surprise us. While many of his fellow musicians already have released such an album, for Jonathan Butler it's the first.
But late is not too late. So we have the opportunity to enjoy his pleasurable Christmas music. Among the supporting musicians are Dave Koz (sax), Rick Braun (trumpet), Paul "Shilts" Weimer (sax), Dan Lutz (bass) and Butler's daughter, vocalist Jodie Butler.
Although most of the songs are classic Christmas hymns, Jonathan has incorporated a lot of his own personality into the album. He comments: "I wanted my fans to have a personal Christmas message from me."
The opening song This Christmas was originally released by Donny Hathaway. Butler puts the song on a complete new level and surpasses the original with the richness of his vocal timbre and a well conceived horn arrangement.
Jonathan Butler's South African township style nicely reflects on Leroy Anderson's Sleigh Ride. His Merry Christmas To You comes from the heart and convinces with its warmth. Happy Holidays joins with the same heartiness. Harry Simeone's Little Drummer Boy is emotionally interpreted in South African way.
Since Bill Crosby's version I'll Be Home For Christmas became a Holiday musical tradition in the United States. Naturally there is Jonathan Butler's rendition in his inimitable combination of guitar and voice. Have Yourself A Merry Little Christmas is a Christmas song introduced by Judy Garland in the 1944 MGM musical Meet Me In St. Louis. Butler's version is a real asset.
Robert MacGimsey's Sweet Little Jesus Boy couldn't get a better intonation than by Jonathan. At soulful content not to be exceeded. The First Noel seamlessly connects. The final highlight is O Holy Night. Jonathan puts his whole soul into the musical and spiritual representation.
Few musicians manage to bring so much feeling and passion into the familiar Christmas hymns like Jonathan Butler on Merry Christmas To You.



Biography

Website


Buy the album in all stores

Album Information

Title: Merry Christmas To You
Artist: Jonathan Butler
Year: 2013
Length: 0:48:17
Genre: General Holiday
Label: Mack Avenue Records (Artistry Music)


Tracks:

01 This Christmas [4:16]
02 Sleigh Ride [3:37]
03 Merry Christmas To You [4:36]
04 Happy Holidays [4:41]
05 Little Drummer Boy [4:18]
06 I'll Be Home For Christmas [4:28]
07 Have Yourself A Merry Little Christmas [4:13]
08 Sweet Little Jesus Boy [5:03]
09 The First Noel [5:53]
10 O Holy Night [7:10]




Further Review: