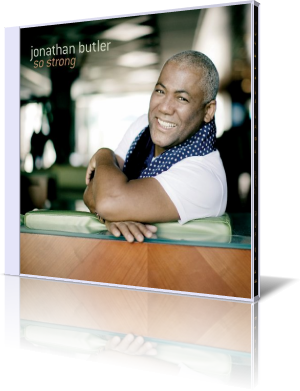 He is a guitarist, he is a vocalist, but foremost he is the lively personification of joie de vivre. I had the opportunity to attend his performance at Warren Hill's Smooth Jazz cruise in 2005. When Jonathan Butler goes onstage, he mesmerizes the audience with his incredible voice. his fantastic presence and his charismatic attitude.
He became popular with his huge hits Lies, Sarah, Sarah or More Than Friends. Fostering his popularity with numerous concerts in Europe, South Africa and the US he still maintains the status of a superstar.
His new album So Strong is his 15th solo collection, offering a bouquet of fourteen compelling songs. ďYou canít keep your head down all the time. You have to celebrate. With all thatís presently going on in the world, I felt the need to give something to the fans, to offer hope. I had to get to that fun place again. The album is a departure; itís optimistic and positive. Itís get up-and-dance, and feel good. Itís all about just letting go. Itís about fun with flavor and a lot of feeling. I call it the three Fs: fun, flavor and feeling," chuckles Jonathan.
Jonathan Butler produced and arranged the album, played most of the instruments, including guitars, bass and keyboards and brought in his friends Rick Braun, Dave Koz, Michael Lington, and Gordon Campbell. Butlerís daughters Randy and Jodie sing background vocals.
His new album ties to his style of the early years. Butler comments: ďI come from the urban world and this home-brewed album showcases my freedom to do what comes naturally (to me). Itís easy to listen to. The songs reflect my romantic side, my passionate side and my fun side.Ē
Keep this in mind, when you listen to the opener So Strong. Guitar riffs introduce to Jonathan Bulter's sultry ballade. Candlelight, atmosphere, music in the air. Although the ballade is grounded in a relationship, there is a message behind that lovely song. You have to be strong in this tough times.
You Got to Believe in Something, if you want to survive. Butler prays the self-confidence and the trust in the future, even when things are running worth now. Enjoy this uplifting song and inhale his glad tidings. The organ sound, the gospel-like choir and Butler's urgent vocals underline his request.
On Make Room for Me Jonathan Butler jams with his friends Dave Koz and Rick Braun. Jonathan often tours on festivals, concerts and gigs with these artists. The ďDave Koz And Jonathan Butler Together Again 2010Ē summer tour will kick off on June 17th at Sound Board at Motor City Casino in Detroit, MI. Butler shines on guitar in the best way.
Jonathan knows the groove. Factual is inspired by Marvin Gaye's eternal song Sexual Healing. I love the flow. Feels So Good is Jonathan's splendid way to spread joy and happiness. When I'm with you it's so good. We believe in Jonathan's positive attitude.
On Be Here With You Butler duets with the wonderful singer Angie Stone. An awesome love ballade of two emotional vocalists. Michael Lington underlines this duet on sax. And there is the flow again. The cha-cha song Avia / For My Baby presents Jonathan in the Benson-style. Butler comments: "It felt so different using a (electric) jazz guitar on an instrumental. Iíve become known for using nylon or acoustic guitars on these type of songs, but I wanted to go back to the era that has influenced my music so strongly. The compositions then were romantic and had great instrumentation."
Butler penned the next song I'm Right Here and five further songs on this album with Kurt Lykes. ďKurt is like a member of the family. We met through church and heís like another son. Heís always here with us. Heís a really close friend and a very talented writer and musician.Ē Kurt also performed with David Foster and other illuminates.
Green is thought to relieve stress and help heal. Color Green is Jonathan's special way to express the influence of love. Good Times is a gentle follow-up in guitar performance. Johnny Nash's I Can See Clearly Now finds a spiritual rebirth. ďThe song is a confirmation that seasons will change. We need to stand together in faith and prayer in spite of the numerous challenges we face.Ē
I Pay Respect is Butler's homage to his homeland South Africa and his heroes Nelson Mandela, Desmond Tutu and Miriam Makeba. "Itís J.B. going home to my African roots. Iím paying respect to my country, to the people who influenced me, and to my faith."
Jonathan Butler's album So Strong is a contemporary witness of Butler's music, friends and heritage. It his musical sign of hope, faith and confidence and finally a great work of entertainment.




Buy the album in all stores



Album Information

Title: So Strong
Artist: Jonathan Butler
Year: 2010
Length: 0:58:22
Genre: General Jazz
Label: Rendezvous Music


Tracks:

01 So Strong [3:45]
02 You Got to Believe in Something [5:01]
03 Make Room for Me [3:29]
04 Factual [4:10]
05 Feels So Good [3:45]
06 Be Here With You [4:38]
07 Avia / For My Baby [4:25]
08 I'm Right Here [3:31]
09 Color Green [3:59]
10 Good Times [4:03]
11 I Can See Clearly Now [4:55]
12 I Pay Respect [5:09]
13 So Strong (Steppers Mix) [4:04]
14 So Strong (Urban AC Mix) [3:28]