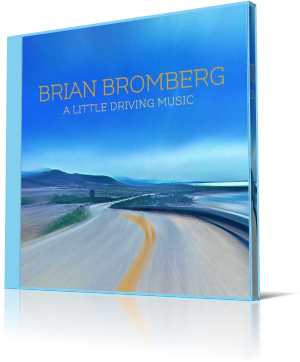 When a musician chooses a title for his album, it is usually done with an intention. We know bassist Brian Bromberg well enough to recognize that he has earned numerous merits in his career. A Little Driving Music is then less descriptive than a joking kind of understatement.
This album is Brian's second, made in isolation during the pandemic. We owe it to modern recording technology and the Internet that this album could be created with the participation of numerous musicians. Brian mentions Charlie Bisharat, Lenny Castro, Nick Colionne, Jerry Cortez, Mitch Forman, Everette Harp, Dave Koz, Marion Meadows, Darren Rahn, Elan Trotman and others.
Title of the album and the names of the musicians involved already point in which stylistic direction this album goes. Even though Brian has already released a few jazz albums, this one is in smooth jazz.
On the fast rather even virtuoso Froggy's Brian romps in the métier of his various bass guitars. He is supported by dedicated musicians such as saxophonist Everette Harp, rhythm guitarist Jerry Cortez and a horn section of saxophonist Andrew Neu, trumpeter Michael Stever and trombone player Nick Lane. Tower Of Power would be happy to include such a tight piece in their repertoire.
How to approach the theme Quarantine in a piece of music. Well, you record a string orchestra in quarantine conditions in the Dominican Republic and underscore the musical statement with orchestral accompaniment. Guitarist Ray Fuller performs phenomenally on this piece alongside Brian on bass.
That Cool Groovy Beatnik Jazz puts Craig Fundyga on the vibraphone in the spotlight. However, Brian shines on the upright bass with such authenticity and accentuation that one wonders why this instrument is not more prevalent in smooth jazz.
The reggae infected Bado Boy! has its raison d'être on this album, because Brian still raves about his last festival in Barbados, to which Elan Trotman invited him.
Walking on Sunshine was a huge hit and economic success worth millions for Katrina Leskanich (Katrina and the Waves). The irrepressible pulling power of this hit has not been lost in Brian Bromberg's version featuring Dave Koz.
Sag5 is no more or less a race between the horns and Brian's bass Armada. It is quite surprising that the capital of France is so often associated with rain. With Mitch Forman on accordion and Andrew Neu on clarinet the atmosphere on A Rainy Day in Paris is typical and authentic.
The title song A Little Driving Music is forward-looking and dynamic to the highest degree. Brian takes over as the lead instrument his steel string acoustic piccolo bass guitar. Mankind longs for him, yet he is as volatile as gas. Peace is the state of bliss and it is celebrated by Brian with saxophonist Marion Meadows and pianist Tom Zink.
Jedediah's Gold! is a piece of music that embraces world and country music. Charlie Bisharat on the violin contributes significantly to this. To whom the melody seems familiar, All Night Long has been a bit of a godfather. The Sitting Room is the aptly title for this leisurely flowing piece, but which also harbors its cataracts.
Baton Rouge is the hip capital of Louisiana with an authentic southern atmosphere, which Brian memorializes with this song. After Bado Boy, Lullabye For Bado is the second piece dedicated to Bado. A tender melody that, with orchestral support, is the greatest expression of loving affection.
Brian Bromberg's A Little Driving Music is as stylistically and instrumentally multi-faceted as Brian himself. Energetic, it's exactly what it's meant to be, your companion music on the road to new destinations.




Buy the album in all stores

Album Information

Title: A Little Driving Music
Artist: Brian Bromberg
Year: 2021
Genre: Smooth Jazz
Label: Mack Avenue Records

1) Froggy's (6:24)
2) Quarantine (6:31)
3) That Cool Groovy Beatnik Jazz (5:25)
4) Bado Boy! (5:09)
5) Walking on Sunshine (Feat. Dave Koz) (5:22)
6) Sag 5 (As in Sagittarius) (5:21)
7) A Rainy Day in Paris (5:58)
8) A Little Driving Music (5:31)
9) Peace (5:16)
10) Jedediah's Gold! (6:57)
11) The Sitting Room (5:28)
12) Baton Rouge (5:41)
13) Lullaby for Bado (3:11)




Further Reviews:


Bromberg Plays Hendrix

In The Spirit Of Jobim

Compared To That