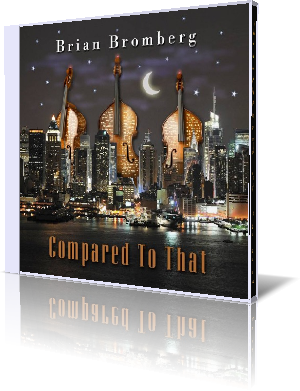 Brian Bromberg is one of the top five bassists worldwide. The GRAMMY nominated bass player grew up in a world of jazz. He already performed in early years with area jazz bands and symphonies. Although some of his twenty solo albums are settled in the smooth jazz realm, his musical love was always devoted to straight ahead jazz. "I still love playing with straight-ahead jazz artists and I want to do more acoustic, mainstream jazz albums myself."
Brian's new album Compared To That is such a mainstream jazz album, which also respects the desire for smooth jazz elements. The album was recorded live in between two days. Recording artists were beside Brian Alex Acuna, Gannin Arnold, Charlie Bisharat, Randy Brecker, Vinnie Colaiuta, George Duke, Bela Fleck, Mitch Forman, Larry Goldings, Jeff Lorber, Gary Meek and Tom Zink.
Fast paced, horn driven, bass loaded, that is the introducing Compared To That. Bromberg excels on Upright bass with impressive dexterity. Jeff Lorber brings with his signature piano virtuosity the piece to breathtaking highs.
With Rory Lowery, Private Eye Brian leans more to straight ahead jazz with a big dose of velocity. Swiftness is always a part of artistry and has its effect on the audience. If Ray Brown Was A Cowboy? is dedicated to the late Ray Brown, an outstanding bassist and recipient of innumerable awards. Brian performed this piece on acoustic bass at the Inn at Reading as part of the Berks Jazz Fest.
On Hayride Bromberg meets banjo great Bela Fleck and violin legend Charlie Bisharat. With all three the tune catches fire and the string arrangement delivers a tight emotional atmosphere. A Little New Old School presents the complete palette of sexy horns including Randy Brecker on trumpet and Gary Meek on tenor sax powered by a mighty horn section of five further prolific brass players. Jeff Lorber adds some dirty gritty atonal tones on keys, while Brian plays various infectious grooves on slap bass with greetings to Victor Wooten and Stanley Clarke.
Forgiveness is a well-respected social and religious behavior. Bromberg elected this great word for a melodic and melancholic acoustic piece with a high emotional aspect. Chicago's Does Anybody Really Know What Time It Is? gets a new swing with a excellent balance of pop and jazz. I'm Just Sayin' loves it straight and jazzy featuring Randy Brecker on muted trumpet. The tune has enough length to allow all musicians to expand on various soli.
The jazz fusion piece Eclipse showcases George Duke on piano and Brecker on flugelhorn. Bromberg describes the song as the darkest tune spiritually and stylistically as a New York jazz sound. Rick James' R&B song Give It To Me Baby finds a jazzy finish by mastermind Bromberg. Finally to mention is Gannin Arnold's superb guitar performance on those part of the album, which aren't played by Brian on piccolo bass.
With Compared to That Bromberg succeeds in recording an evenhanded mixture of pop and jazz, that will actually excite jazz purists.