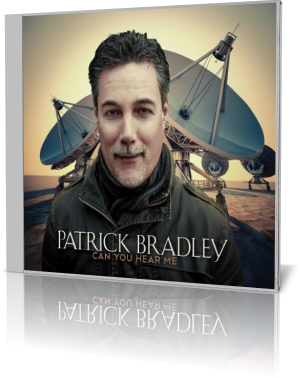 Business success and good music do not interfere, they are a pleasant addition. As a successful businessman Patrick Bradley can live his musical passion without restrictions. Can You Hear Me is not a question but his third album after Come Rain Or Shine (2006) and Under The Sun (2011).
The album is well padded with illustrious musicians such as Jeff Lorber, Dave Koz, Jimmy Haslip, Gary Novak, David Mann, Rick Braun, Eric Marienthal, Dwight Sills and Michael Thompson. Nearly all songs were composed by Bradley in collaboration with Jeff Lorber, who also produced the new project.
What we miss at Jeff Lorber's own jazz fusion albums of the last time, we see on his smooth jazz productions for other musicians in abundance. All In welcomes us with soothing sounds, where we feel at home.
Similarly afloat continues Blue Skies in the style of a live jam. Patrick Bradley shines on piano and organ and steals Lorber the show. He associates with the title musings North of Evermore of a heavenly place. He creates dynamics due to the different sounds of keyboard, organ and Moog Synthesizer. The tune drifts into the Soft Rock region of groups like Yes or King Crimson, the music Bradley originally came from.
Can You Hear Me presents the optimum of tenderness and softness. This guarantees already Dave Koz on soprano saxophone. It was Bradley's intention to touch the listener with the theme song. Daylight is benefiting from David Mann, who brings a lot of momentum into the game with his horn arrangement. Shoreline has a beautiful melodic line, which is transposed by Bradley perfectly on the piano. Lorber and Eric Marienthal refine the song with great skill.
With Catalan Bradley has been inspired by the Catalan city of Barcelona. Very nice Moog and synth sounds. For Her is constantly evolving and gaining energy with Bradley's organ. On Sierra Bradley approximates the style of the group The Rippingtons. With Voyage he takes us back into the sound worlds of contemporary jazz. With an excellent solo of Rick Braun on trumpet, Patrick's piano run, David Mann's horn arrangements this piece offers so much highlights to keep in good memory.
Can You Hear Me must be answered with a resounding yes. High level musicianship of the bests meets hooking melodies. Irresistibly good.




Album Information

Title: Can You Hear Me
Artist: Patrick Bradley
Year: 2014
Length: 0:47:06
Genre: General Jazz
Label: Patrick Bradley Music


Tracks:
01 All In [4:58]
02 Blue Skies [4:01]
03 North of Evermore [5:01]
04 Can You Hear Me [5:05]
05 Daylight [4:28]
06 Shoreline [4:36]
07 Catalan [5:02]
08 For Her [4:49]
09 Sierra [4:36]
10 Voyage [4:31]




Further reviews: