Jamie Bonk St. Joseph Street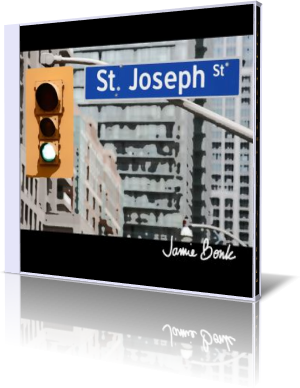 Canadian guitarist Jamie Bonk studied his instrument over a long period and was an associate guitar instructor at the Toronto Guitar Institute in 1990-97. He started his career with his self-titled debut album (1997), followed by A Perfect Tomorrow (2000), My World (2004) and 5 (2007).
His new album St. Joseph Street (2009) is conceived as EP presenting a bouquet of four exclusive songs. Jamie Bonk is joined by bassist Henrik Bridger, drummers Dave Patel and Peter Zakarow, vocalist Wendy Irvine and flutist Bill McBirnie.
Summer In The Round let you feel the vibe of a splendid summer day. There is so much joy in this song. Bill McBirnie's flute is rejoicing like a lark in the clear summer light. Elevating, stirring, moving!
On Nobody Knows Why Jamie Bonk showcases more of his melodious composing talent. His wonderful melody is well performed on acoustic guitar.
Said It Once features the wonderful singer Wendy Irvine in a lyrical ballade. Currently, in addition to performing regularly with the formation Soulshine, Wendy and her two sisters perform as the Moonglows (or simply The Irvine Sisters) in the 'Kings of Swing' big band show, paying tribute to the swing era including the Andrews Sisters. Personally this song reminds me of the great songs of Mike and Sally Oldfield.
Quiet Tones shows another side of Jamie Bonk, the combination of acoustic guitar and electronic accompaniment in the style of New Age.
Whatever you like, Jamie Bonk performs it all in a perfect and appealing way. This album is irresistible and can unquestionably open new doors for Jamie's future career.