Jamie Bonk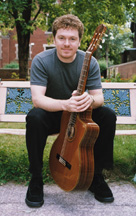 Jamie Bonk's A Perfect Tomorrow shows many of the diverse elements of his musical past. This CD is at its heart melodic with a strong sense of rhythm and deep textural complexity. This is Jamie's new path.

Hailing from Toronto, Canada, guitarist/composer Jamie Bonk is set to release his second CD, A Perfect Tomorrow. This album carries on from Jamie's self-titled debut CD, which was New Age Voice (NAV) Magazine's Radio Album of the Year for 1999. While both of Jamie's releases are self-composed, produced and engineered in his project studio, A Perfect Tomorrow adds two new musicians into the mix. Drummer/percussionist Jack Vorvis and keyboardist Sonya Mitlewski have joined Jamie on this latest CD.

Stylistically, Jamie's music draws on a wide range of influences. As he says, "This is instrumental music that moves between and around a wide variety of textures and moods." Using his nylon string acoustic guitar, Jamie's love of evocative melodies is clear from the first notes of "Tofino" to the final phrases of "Within". The influence of World music can be heard in the simmering rhythms and percussive embellishments throughout A Perfect Tomorrow. "I wanted the listener to feel the beats as if they couldn't be separated from the melodies and the textures," Jamie says.

Drawing inspiration from Strunz and Farah's improvisations and Ottmar Liebert's sense of melody, Jamie's heart-felt guitar performances immerse the listener in a unique and sensuous blend of sound and rhythm. Many artists and sounds influenced Jamie's sense of rhythm, but Mickey Hart's Planet Drum was particularly important. While melody and rhythm are central to Jamie's music, textural complexity provides a panorama of colour. Drawing on his experience in the electro-acoustic field, Jamie who was the silver medal winner in the electro-acoustic category of the 1986 C.A.P.A.C. competition, was able to weave a tapestry of sound. By layering sampled and synthesized textures, Jamie created an intricate musical landscape that parallels the work of Patrick O'Hearn and Enya.

As with many artists, Jamie has had a varied and compelling past. He spent his early childhood growing up in a multitude of locations. While living in Eindhoven, Holland, Jamie discovered the band Cream and one of his favorite sounds -- feedback. This freedom of sound would be later reflected in Jamie's electro-acoustic compositions and his free jazz performances. Although best known for his guitar playing, Jamie actually started his musical training on the piano in Winnipeg, Canada. He quickly progressed and was to be the focus of a Yamaha ad campaign. Unfortunately, his family were off to live in Toronto, Canada.

In Toronto, Jamie was exposed to a wide variety of music. The sounds of World music, Jazz and Rock pointed him to his new instrument - the guitar. Cecil Taylor's Indent was Jamie's first contact with freely improvised music and was a profound marker in his artistic career. "Freely improvised music taught me the beauty of sound and energy," Jamie says.

The late seventies were the punk/mod/ska years for Jamie. He fell in love with the sounds of The Jam, The Clash, The English Beat and a plethora of other bands. In parallel to his punk and jazz tastes, Jamie developed a passion for the classical guitar and began studying with one Canada's premier instructors -- Eli Kassner. Kassner is best known as the teacher of Canadian classical guitarist Liona Boyd.

In 1983, Jamie entered Queen's University as a music composition student. In his first year he was fortunate enough to study composition with one of Canada's greatest living composers -- Istvan Anhalt. Perhaps Jamie's most influential teacher at Queen's was composition professor Bruce Pennycook. Pennycook enabled him to experiment with first generation MIDI sequencers, samplers and synthesizers.

After graduating from Queen's, Jamie began his professional career in Toronto. In the first years of Jamie's professional career, he did what most freelancers do -- everything. He composed film scores for Lindrian Films' Heart of the Forest and Brenda Longfellow's Our Marilyn. He did studio guitar playing and MIDI programming for a multitude of demo and album projects. He played in a number of local rock bands.

But his own music was becoming his path. He composed, produced and performed Zippin' For Now an album length recording that garnered Jamie coverage in Keyboard, Downbeat, and Rhythm magazines.
His love of freely improvised music also beckoned. He met Jack Vorvis, a virtuoso drummer with whom he formed a duo of drums and electric guitar. Their freely composed pieces were performed in many downtown Toronto clubs. They also performed no less than eight, one-hour live shows on radio. The recording Silver & Gold documents their explosive sound. Later in 1994, Jamie would engineer several tracks on an album called Jack and Mike by Jack Vorvis and world renown visual artist/musician Michael Snow.

Jamie's love of Bill Frisell and John Scofield's music lead him to meet jazz drummer Malcolm Gould. Jamie and Malcolm decided to form a modern jazz trio in order to play primarily original compositions. After performing with a multitude of bassists, they were fortunate enough to meet acoustic and electric bassist Stephen Gilmour. Their trio, named "H Trio", lasted from 1990-1993, and they performed regularly at many downtown Toronto venues such as C'est What?, The Free Times Café and Sneaky Dee's.

In the early 1990's, Jamie began teaching guitar at the Toronto Guitar Institute (TGI) as an Associate Guitar Instructor. During his time at TGI, he taught literally hundreds of students and in every style. Jamie taught guitar until 1997, when he formed Bonk Productions in partnership with his father. In tandem with his teaching, Jamie composed and produced corporate video soundtracks for companies such as Manulife, Cadillac Fairview and Southam.

Jamie's self-titled debut CD, which was released in 1997 in Canada and in early 1998 in the U.S., received considered airplay. In addition to being NAV's Radio Album of the Year for 1999, Jamie Bonk was NAV's Airwaves Top 100 longest charting CD. The CD stayed on the charts for 18 consecutive months, 7 months longer than the previous longest charting CD, Loreena McKennitt's The Book of Secrets. Jamie Bonk was also the longest charting CD in the top ten (8 months) and the longest charting CD in the top twenty (14 months). To date, Jamie's debut has been played on over 500 radio stations worldwide.

Jamie Bonk was also played on many in-flight audio programs. Airlines which have programmed Jamie's music have included Asiana, TWA, US Airways, American, America West and Canadian. Also, the entire CD was used as boarding music for Air Canada during May, June, September and October of 1998. Furthermore, Jamie's music has been programmed by AEI Music, DMX USA, DMX Canada, Music Choice, Music Choice Europe, DX Radio Network, Galaxie/ExpressVu and Echo Star.

Jamie is currently rehearsing for live performances and working on a number of new recording projects.