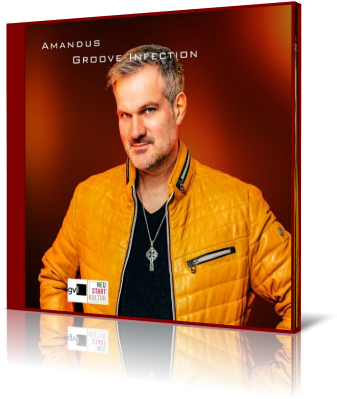 German keyboardist and pianist Michael Amandus Quast aka Amandus was an unknown to the smooth jazz scene until last year. That changed decisively with the release of his debut album Sing A Song (2021). Since the possibility of performing in Germany came to a complete standstill due to the pandemic, he concentrated on composing and recording new songs.
The result is his new EP Groove Infection (2022). Amandus plays on the new album grand piano, keys, and drum programming. He is supported by his friends Uli Brodersen (guitar), Stephan Schuchardt (drums), Alvin Mills (bass) and Donniele Graves (backing vocals).
The album opens with the title song, a tune which fully deserves the title and especially inspires with that certain touch of George Benson. Uli's guitar performance is a welcome addition to Amandus' superb piano performance.
Quarter To Midnight surrounds an aura of mystery that is brought to life in a nuanced way with purposeful jazzy strokes on keys. Love Will Be Our Strength can certainly be traced back to a spiritual core. In any case, it leaves a positive encouraging impression.
Floating Cloud enthuses with beautiful keyboard flows, which provide the background for Amandus' long-running piano solos. Chrome Improvement clocks faster and has the instrumental quality of Bill Sharpe's piano style. If you listen closely, you will also recognize some musical quotations.
Amandus' new album Groove Infection has all the components you would expect from a good smooth jazz album. Thus the album joins the shining phalanx of other smooth jazz stars like Brian Culbertson or Jonathan Fritzen.




Buy the album on all digital platforms

Album Information

Title: Groove Infection
Artist: Amandus
Year: 2022
Genre: Smooth Jazz
Label: Independent

1) Groove Infection (4:57)
2) Quarter To Midnight (4:42)
3) Love Will Be Our Strength (5:03)
4) Floating Cloud (5:00)
5) Chrome Improvement (4:54)


Review:

Sing A Song