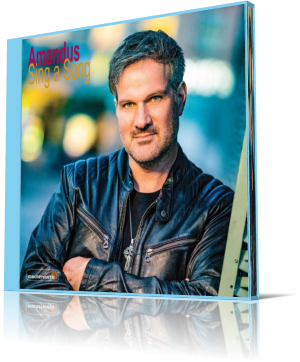 German pianist and keyboardist Michael Amandus Quast started his career as professional musician around the millennium. As an accompanying musician he toured with Paul Young for several years. Besides his numerous activities in the German-speaking area, he also played the keys for Nik Kershaw, Johnny Logan and Midge Ure. Two years ago he began to fulfill his wish to record a smooth jazz album.

He chose his middle name as his stage name, which in Latin means "the beloved". His supporting musicians are hand-picked and some of them are well known throughout Germany. David Anlauff (drums), Philipp Rehm (bass), Uli Brodersen (guitar), Ray Mahumane (guitar), Søren Jordan (guitar), Arno Haas (alto and soprano sax), Angela Frontera (percussion), Helena Paul and Jimi Carrow (vocals). Amandus is playing grand piano Yamaha S4, keys and programming. The additional brass section consists of Christian Ehringer, Igor Rudytskyy (trumpet), Thomas Sauter (trombone) and Michael Steiner (tenor and baritone sax).

All songs are written by Michael Quast. The title of the album has a slightly ironic touch, because with one exception it is an instrumental album. The album starts with something tiny. But The Mice Song quickly makes it big. Funky guitar riffs meet groovy bass and a sophisticated horn arrangement.

Enjoy is not a recommendation but the inevitable result of this sound experience that reminds me somewhat of the music of the English group Shakatak. Sunday School inspires with pointed inserts and beautiful interjections of synth bass, vintage organ sound, piano jazz and a wonderful saxophone by the popular Arno Haas.

More Like This takes it casually, but the work on the piano is of the finest. Sing A Song features the famous British singer Helena Paul and the combination of vocals and piano again suggests parallels to the style of the group Shakatak. Take the bass run of Junior's Mama Used To Say and add a formidable easygoing piano play and you get Driving Decompression.

I could swear that Hey Man is influenced by the music of Jeff Lorber. I guess I'm not completely wrong. One Day for a Lifetime shows more of Amandus' slick and soulful piano style which subtly blends with Arno's saxophone accompaniment. Rhodesbeef is an ingenious wordplay with Rhodes and roast beef featuring Philipp Rehm on bass and Amandus on Rhodes and Clavinet.
The final tune is entitled Shacky, which means someone with whom one maintains a casual acquaintance. This wonderfully describes the sassy musical relationship between Amandus and his friends.
Amandus' Sing A Song is an overall solid smooth jazz production which in many passages gives his pronounced talent the opportunity to shine. With full-bodied grooves he already shows in all parts of this project a distinctive nose for the right direction.





Buy the album in all stores

Album Information

Title: Sing A Song
Artist: Amandus
Year: 2020
Genre: Smooth Jazz
Label: Mochermusic


Tracks:

1) The Mice Song (4:07)
2) Enjoy (4:27)
3) Sunday School (3:46)
4) More Like This (4:15)
5) Sing a Song (3:25)
6) Driving Decompression (3:50)
7) Hey Man (4:46)
8) One Day for a Lifetime (5:52)
9) Rhodesbeef (3:42)
10) Shacky (5:45)