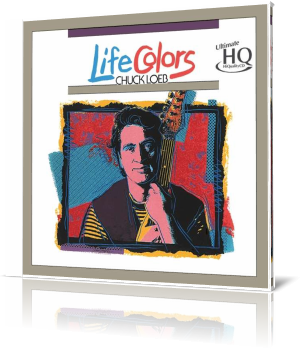 It's been five years since I wrote the review of Chuck Loeb's album
Unspoken
(2016). Even though Chuck was marked by his illness, we all still had hope that he could continue his life's work. It was to be his last solo album.
At the age of 61, just one year later, guitarist Chuck Loeb succumbed to cancer. We have lost a great guitarist and a truly exceptional human being. The way to review a new album by Chuck is denied us for the future.
That's why I'm looking back, because he left us an extensive body of work. So it was very convenient for me that the German company in-akustik has reissued an album of Chuck's from his glorious DMP period as an Ultimate High Quality CD. His album
Life Colors
was released in 1990.
Chuck performs on this album electric and acoustic guitars, synthesizer and computer programming. He is joined by Will Lee on bass, Jim Beard on keyboards, Zach Danziger on drums and sampled percussion, Michael Brecker on tenor saxophone, Bill Evans on soprano saxophone, Sammy Figueroa on percussion and by his wife and vocalist Carmen Cuesta.
Chuck had written all tracks with the exception of track 3, which he composed with Michael Karp and Carmen. The complete album was recorded live at Clinton Recording Studio, NYC and at DMP, Stamford, CT.
The album opens with
7th Ave South
, a tribute to the legendary jazz club of the Brecker Brothers in New York, which closed in 1987, three years before this album was released. Chuck was a frequent performer and listener in this club. Among the guests were Jaco Pastorius, Stevie Wonder, Chaka Khan, Miles Davis and a lot more.
John Leslie
were the lesser-known first names of guitarist Wes Montgomery, to whom this song is also dedicated. Michael Brecker completes a fantastic solo on tenor saxophone before Chuck himself demonstrates his outstanding talent.
Vocalist Carmen Cuesta was Chuck's wife and at the same time his soulmate, who shared his love of music.
Momento De Luz
is their child together. This fruitful collaboration was continued with numerous albums such as
Peace of Mind
,
Me Bossa Nova
,
Toda Una Vida, Dreams
or
You Still Donít Know Me
. She was also a welcome guest on Chuck's later albums.
On
Gravity
Michael Brecker performed his second contribution to Chuck's album. Chuck loved this song so much that he released it again on the same titled Metro album in 1994. But this time he played the lead theme on acoustic guitar.
Associated with the season of spring are always positive thoughts. So it's no surprise that Chuck has lived out the lightness of being on the electric guitar with
Springs
. Yesterday a song, today American songbook.
Blue
stands out somewhat from the overall concept of the album because it goes more into the realm of New Age and is dedicated to the atmospheric.
The title song sums up the different colorings of the album. It combines some atmosphere, but also the power of a distorted guitar, taking off into the realm of rock, only to pick up the natural tones of gentle soundscapes again.
What is the best way to express fatherly love for one's children? Chuck uses the language of music with
Crayons
. Joyfulness and tenderness are the main vibrations.
Chuck can also find good things in the wintertime. The
Snow Song
is recommended as a song not only at Christmas time. Normally, watercolor paintings have a certain lightness.
Water Colors
, however, is as melancholic as the impasto technique in oil painting.
Even though Chuck Loeb is generally regarded as a smooth jazz icon, he has been a lifelong jazz aficionado. For instance, he was a member of Stan Getz's band between 1979 and 1981. During this time he also composed the piece
Kali Au
, which appeared on Stan Getz's album
The Sound Of Jazz
in July 1988. This version also contains a large portion of bebop and jazz fusion, which is brought out particularly expressively by Bill Evans on the soprano saxophone.
Chuck Loeb's album
Life Colors
is a piece of contemporary musical history. During his time with the jazz label DMP, he produced the albums
Magic Fingers, Life Colors, Balance, Mediterranean, Simple Things
and the Best Of-Album
Memory Lane
. So far rare collector's items, in-akustik now fortunately provides us with access to these treasures again.




Album Information

Title: Life Colors
Artist: Chuck Loeb
Year: 1990
Genre: Smooth Jazz
Label: DMP/in-akustik


1) 7th Ave South (4:44)
2) John Leslie {For Wes Montgomery} (5:09)
3) Momento De Luz (4:58)
4) Gravity (6:21)
5) Springs (3:55)
6) Blue (4:15)
7) Life Colors (5:31)
8) Crayons {For Christina and Elizabeth} (4:44)
9) Snow Song (5:26)
10) Water Colors (2:22)
11) Kali Au (5:47)