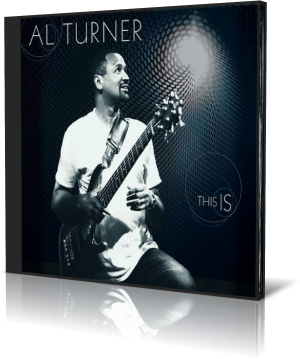 "The Burner" Al Turner, bass player exceptional, has released after It's Good To Have Friends (2005), Movin' (2009), Sunny Days (2011) and Simply Amazing (2015) this year his fifth album This Is. The cover is taken from a photo captured on a concert in Wilmington.
Marlon McClain, Tom Braxton, Ron Otis, Dana Davis, Darryl Wakefield, Calvin Rodgers, Jeff Canady, Monty Q. Pollard, Mark Mitchell, Jordache Grant, Darryl Dixon, Rick Watford, Melvin Jones, Mike Burton, Shedly Abraham, Gino Castillo and Eric Willis are listed in the credits of the new album.
The album goes into position with the affirmative This Is. In a fast race of instruments the dynamic melody crystallizes. The bass also gives the fast pace for the following piece Sunrise. There is an infectious almost captivating funky spirit that inspires the instruments involved.
Sunset dives into some timeless Motown riffs from Stevie Wonder to George Bohanon with a big dose of Funk, that was the doctor recommends. On Divinely Created everything concentrates on the bass and the way he's staged is phenomenal.
I Will are the magic words that everyone in a relationship wants to hear. Al provides us with the aptly atmosphere of sensual romance. Rejoice can be described as a state of utmost excitement, in this case the horns are the mediators of the message.
Al Turner's bass solos are legend. What can be a better, when some catchy riffs are assembled to one melodious groove. Living Inside Your Live is the title song of the second studio album by Earl Klugh released in 1976, covered by George Benson in 1979. Al Turner has played this piece together with Earl Klugh at countless live events. It is therefore a logical development to include this song as the final piece.
Al Turner's new album is pure magic in the right hand. Al Turner more than lives up to his nickname "The Burner". This is gold for every bass fan.


Buy the album in all stores

Album Information

Title: This Is
Artist: Al Turner
Year: 2018
Genre: Smooth Jazz
Label: Al Turner


Tracks:

1 This Is 4:08
2 Sunrise 4:33
3 Sunset 3:44
4 Divinely Created 4:05
5 I Will 4:23
6 Rejoice 4:37
7 7 4:04
8 Living Inside Your Love 4:44

Further review:


Simply Amazing