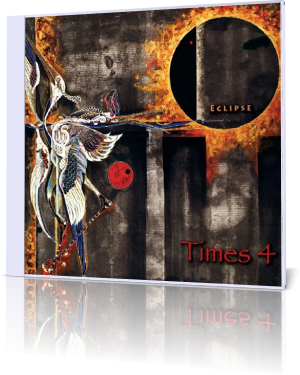 Bay area band Times 4 is meanwhile one of California's leading group in the contemporary jazz genre. Co-founded by Lincoln Adler, who is known by his albums The Dream and Short Stories, the group has in the intervening time released the albums Seductivity (2005) and Relations (2006). Eclipse is their third album and now on sale at CDBaby.
Further members of Times 4 are Maurice Miles (drums), Greg Sankovich (keyboards) and Kevin Lofton (bass). The ideas of the new songs were created during the numerous jazz sessions the band gave at their gigs in the San Francisco area. This time the group has self-produced the album learning more about the specific sounds of their instruments in the recording process. Widening their knowledge had certainly a leveling effect on their music.
The album introduces the band with the title song Eclipse. The melody line is airy and hold by Lincoln Adler's soprano sax accompanied by Greg Sankovich on piano, who expands the song in meanders of sub themes.
Sine Language shows the other side of the group, energetic, earth bounded, propelled by bass and drum. Lincoln Adler prefers wide melody arcs with dramatic tension to spellbound the audience.
Most of the songs are extraordinary long, for example Crosswinds goes over nine minutes. Carefully build sound tapestries are breeding grounds for excursions into expressive improvisations.
Did I Say That Out Loud reveals more colors of the group. Greg Sankovich remarkable piano performance with a great affinity to jazzy and complex sound constructions and Lincoln's tendency to bind them in melodies.
Naima is an Arabic pre-name for women. In their own way the group interprets the name with a strange and memorable piece of music. Lincoln comments: "The song Naima is actually written by Saxophonist John Coltrane, dedicated to his wife of the same name. We thought it'd be nice to pay tribute some of the history that brought us to where we are today".
The electrifying FSJ will enthuse the audience, while the atmospheric What They Don't Tell You is a place for dreams. With the final Eighty One Times 4 mirrors all scales of a live band.
Times 4 consequently elect their unique style. No squint to smooth jazz, pure professional contemporary jazz.





Album Information

Title: Eclipse
Artist: Times 4
Year: 2010
Length: 0:56:40
Genre: General Jazz


Tracks:
01 Eclipse [8:54]
02 Sine Language [6:05]
03 Crosswinds [9:14]
04 Did I Say That Out Loud [8:30]
05 Naima [6:53]
06 FSJ [4:39]
07 What They Don't Tell You [8:48]
08 Eighty One [3:37]


Further reviews