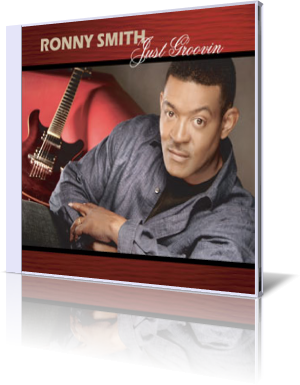 We need another hero. After Wes Montgomery and George Benson Ronny Smith epitomizes the culture of jazz guitar music. After his albums Long Time Comin (2001), Laid Back (2002), Got Groove (2006) and Simply Stated (2007) he honored us with his new album Just Groovin (2009), scheduled to release on May 19, 2009.
"As a guitarist. I've learned that bands can do with you or without you regardless of your abilities." Ronny describes his solo career, "Your job is a filler, so I started thinking more independently outside the band box. Thus, this project was developed. I wanted to know first if I was capable of doing this. That is not only the guitar parts, but if I could put my hearing to test to see if I could bring out what I have learned and heard over the years into a composition. I have to say Long Time Comin' was an effort, but I knew I've got a harder road ahead than I thought."
On his new project Ronny is joined by Vernell Mincey (drums), Tony Whitfield (bass), Alan Alexander (keys), Scott Martin (sax), Stan Martin (trumpet), Andy Martin (trombone), and Karl McNeil (bass). With the exception of two covers Rony has composed all tracks on his new album.

Ronny shows sign of life with Here We Go Again. The essence of smooth jazz is smelling to my nose. Ronny's signature guitar sound and his terrific keyboards skills brighten our mood. Appealing guitar chords are Ronny's trademark. The next title Smooth suggested something mellow to me. Multi-instrumentalist Ronny Smith arranges keyboards, guitars, bass, flutes and string to a brilliant package supporting his captivating guitar line.
Stevie Wonder's Superstition (1972) is a landmark in music history. Stevie wrote this tune for his album Talking Book album. The song is immediately recognizable for its notably funky clavinet riff which is extensively presented by Alan Alexander on Ronny's rendition. Ronny himself encompasses the melody with a fierce guitar performance.
Road names are a often used for song titles. 95 Drive is especially your song for the trip to hot Florida on the famous Interstate 95.
The title song Just Groovin has a fantastic flow and is well supported by the Martin horns. The Martin Brothers have recorded for artists and producers such as Quincy Jones, Barry Manilow, Ray Charles and many, many others. Abundant joy and a commitment to groove is the message of all musicians.
I'm Beside You is Ronny's personal gesture of gratutude. "I'm very thankful for the blessing to have the opportunity and the skills and the equipment to write and perform music. I'm not much of a person with words so I demonstrate my thanks through my songs. I'm always reminded that I'm not alone when facing challenges and very thankful when I'm overcoming them."
Sometimes tunes are created by just fooling around. Groove 106 is an example for it. Titled after its metronome setting at 106 beats per minute. Music is in the air.
Forever Friends reveals the splendid acoustic side of Ronny Smith. Ronny has dedicated the song those friends from the past that he has lost contact with. The slow tempo Ticket to Miami never got the Samba speed. So Ronny changed the originally concepted title Ticket to Rio. Time for relaxation.
Finally Ronny decided to add a Bossa Nova, the Blue Bossa. Composed by Kenny Dorham this song was prominently featured on Joe Henderson's Page One and became soon a jazz standard. "I play this piece so much that I really wanted to do something different with it. The challenge was how to make it different. So I thought Rio again but ended up, I think, in Puerto Rico with a subdued groove, " comments Ronny.
With his new album Just Groovin Ronny Smith is on the best way to become a guitar hero stepping out the shadow of Wes Montgomery.

Bio


Ronny's website


Label info


Further reviews


CD available
in


Title: Just Groovin
Artist: Ronny Smith
Year: 2009
Length: 0:41:15
Genre: Smooth Jazz
Label: Pacific Coast Jazz


Tracks:

01 Here We Go Again [4:14]
02 Smooth [4:21]
03 Superstition [4:29]
04 95 Drive [3:42]
05 Just Groovin [4:17]
06 I'm Beside You [4:30]
07 Groove 106 [4:16]
08 Forever Friends [4:04]
09 Ticket To Miami [3:56]
10 Blue Bossa [3:26]