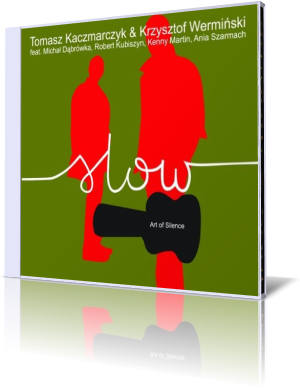 Poland is becoming fast the nucleus of Europe's Smooth Jazz. The music of artists like Piotr Bal, Marek Jelen, Paul Rozmus or Michael Urbaniak already found its way to America. Another active musician is Marcin Nowakowski, whose album Shine was recently reviewed. But Poland has more to offer.
Polish musicians Tomasz Kaczmarczyk (guitar) and Krzysztof Wermiński (piano) founded in 2010 the band Slow. In earlier times Tomasz played bass in the neo-progressive formation Albion in Krakau. Working on their first recording they invited the jazz musicians Sławomir Berny (percussion), Michał Dąbrówka (drums), Robert Kubiszyn (bass), Kenny Martin ( drums), Kasia Piasecka (vocals), Ania Szarmach (vocals) and Leszek Szczerba (sax, flute).
Famous Polish executive producer Arek Pruszczyński (Proa Records) secured high music quality. Furthermore in the production team was Rafał Smoleń, an excellent sound engineer. The debut album Art of Silence is already available in all online stores.
The starting track of an album is always the most important, because this is the First Impression. Gentle guitar chords meet jazzy saxophone introducing Krzysztof's piano magic. Do you like some Latin flavored lounge music? Then listen to the elegant acoustic guitar on Wczesna Sjesta (Early Siesta).
Certainly you will remember the avant-garde synth-pop group Art of Noise. Art Of Silence is the Polish smooth jazz counterpart. While the mellow acoustic guitar is often in the foreground, Slow consider themselves as community work. Robert Kubiszyn shines with a wonderful solo on fretless bass.
Na Skraju Dróg (On the edge of roads) features lovely singer Ania Szarmach. The language barrier forces for sensitive listening and the result is convincing. Payola is the illegal practice of payment or other inducement by record companies for the broadcast of recordings on music radio stations. The title is somewhat burdened by the meaning of the word, nevertheless Slow's music very comfortable.
Spokojnie (Quietly) is a slow-tempo tune on the borderline between smooth jazz and new age. The appealing melody gives time to dream. You can meet them in the ruins in Mexico and in many other countries of Middle and South America. The lizard, better known as Green Iguana. Iguana Party is Slow's jam contributing to this peaceful animal.
On Ada the band intertwines elements of techno and new age with smooth jazz to a dynamic beat-driven sound trip. Gender Blender is for those, who loves the bass. After Stanley Clarke, Victor Wooten and Marcus Miller we should notice Robert Kubiszyn. Way Out is like a fine wine, drinkable taste and easy finish. Obviously all musicians share the music with great joy.
Slow's Art Of Silence is a perfect deuce for these academic musicians. Attention for Polish smooth jazz would support the world wide community. Doesn't need this genre fresh input? More European influence is certainly an appropriate way.