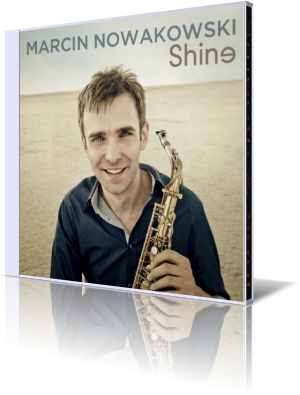 Although located in Poland saxophonist Marcin Nowakowski successfully spreads the word respectively his music around the world. Milestones of his solo career are the albums Smooth Night (2005) and Better Days (2009). Now he returns with his third project Shine (2011).
Anew Marcin is supported by top-notch musicians like Paul Brown (producer, guitar) and Jeff Lorber (producer, keyboards, piano, bass, and guitar), Jimmy Haslip (bass), Michael Thompson (guitar), Dave Weckl (drums), Brian Bromberg (acoustic bass), Ricky Lawson (drums), Gary Novak (drums) and many other.
While his previous albums didn't get the deserved response, his new album Shine is destined to be his breakthrough in the States. After all, even the venerable jazz magazine Jazziz took notice from his album and reported about it with praise.
With Nobody But You Nowakowski fosters with lasting effect in the R&B realm featuring Billy Mondragon's soulful vocals. A member of the group DW3 he makes waves in the L.A. area through strong power and soothing harmonies.
On Tell Me Why Marcin sets his coins on the sweetness of his soprano sax spiritually connected to Kenny G's style. Give & Take spreads happiness with handclaps, stirring background vocals and Ricky Lawson's signature drum beats. The best platform for Marcin's expanding sax performance.
The mid-tempo Out Of Time presents Paul Brown's sonorous vocals, while Marcin adds the icing on the cake. Snow Lion starts Marcin's collaboration with keyboardist Jeff Lorber. A captivating melody with an impressive motif shared by Marcin and guitarist Michael Thompson.
The heartfelt Coming Home features Adam Sztaba and the Atom String Quartet. This quartet is one of the rare string formations specialized on smooth jazz. These musicians also lead other bands and perform with best Polish artists. The Atom String Quartet mainly plays their own compositions which sound modern and original thanks to the unusual set of instruments for a jazz band.
On March On Jeff Lorber celebrates his piano finesse while Marcin's alto sax permanently entrances in higher notes. Who loved Al Jarreau's Shine Shoes on Paul Brown's album Love You Found Me will certainly like Dax Reynosa's rendition. Easy Going presents Marcin anew in full flight of fantasia. Marcin and Paul however sound their best on Good Night Kiss, where acoustic guitar meets alto sax.
With two outstanding producers like Paul Brown and Jeff Lorber Marcin Nowakowski can't fail on his new album Shine. A truly world class album of a great sax talent.