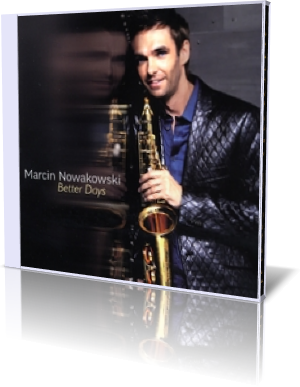 Polish sax player Marcin Nowakowski made his debut in the smooth jazz genre with his album Smooth Night (2005). As experienced sideman and performer in the Polish jazz scene he already garnered a certain popularity in the local community of Warsaw. He also performed with Jose Carreras, Paul Jackson, Jr., Simon Philips, and David Knopfer among others.
Now he prepares himself for the great jump over the ocean to the U.S. smooth jazz scene. A pavestone to this aim is his new album Better Days (2009), which was produced by Jeff Lorber. While his debut album was recorded with Polish musicians Marcin now engaged for his sophomore album the finest musicians of the American contemporary jazz scene: Jeff Lorber (keyboards), Paul Jackson Jr. (guitars), Alex Al (bass), Tony Moore (drums), Lenny Castro (percussion) and many more.
Wake Up is Marcin's first call. Supported by the above mentioned top-notch cats Marcin presents his impressive sax melody. Shanice's megahit I Love Your Smile (1991) is certainly a welcomed original for covers, not only because of its great melody but also because the song features a saxophone solo by Branford Marsalis and his name is quoted by Shanice in the second half of the song, when she says "Blow, Branford, Blow". Marcin's heartfelt rendition let the melody shine in its best light.
Jeff Lorber has a strong influence on this album. Many songs like Let's do It are composed by him in collaboration with Marcin. This young sax player shows his blessed proficiency and progressive technique. Eric Marienthal was one of his teachers which is unambiguously listenable. On the sophisticated Huggy Bear Marcin Nowakowski expands his skills on alto, tenor and baritone sax as well the flute.
Sensual reveals Marcin's romantic vein. The song was written by Wojtek Olszak, one of the best Polish producers, musicians and composers. He also supported Marcin's debut album. The uplifting Feelin' Good is a moody song with contributions by Marcin and Jeff Lorber.

The sax is designed for romantic ballades and so Marcin composed Waiting For You and performed it with one of America's best formation (Alex Al, Jeff Lorber, Paul Jackson Jr., Dave Weckl). The song features Jeff Pescetto, who lent the vocals to David Foster's pianism on the latter's River of Love album. The soft piano line is played by Wojtek Olszak, who also shines on keyboards on the next ballade Tonight Is The Night.
The up-tempo After Hours mirrors Marcin's dynamic performance obviously inspired by Lorber's incredible soundscape. A great duet between both which should definitely be expanded to a live version. The final title song presents anew Jeff Pescetto's magic vocals.
Marcin Nowakowski's sophomore project Better Days is without no doubt a huge step towards a successful career. With this support of America's contemporary jazz heroes the way to the musical Olympus is open.