| | |
| --- | --- |
| Archive | |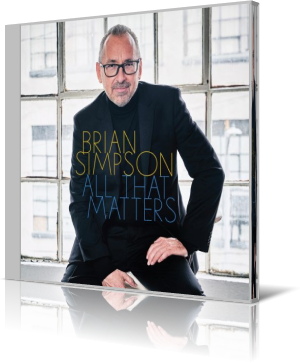 It's time to look at Brian Simpson's previous releases. His solo albums Closer Still (1995), It's All Good (2005), Above The Clouds (2006), South Beach (2010), Just What You Need (2013), Persuasion (2016) And Something About You (2018) have been instrumental in shaping the face of smooth jazz. With All That Matters (2021), he adds another piece to the mosaic.
The pandemic gave Brian an opportunity to break away from the daily grind and internalize what was actually important to him. Thus, the album title is also the result and quintessence of his own reflections. One's own family plays a major role in it, as does music, of course.
Brian plays piano and keyboards as usual on his new album, but also likes to take cues from other keyboardists like Nicholas Cole and Oliver Wendell. Label mate Steve Oliver contributes some musical ideas. Brian has won for his project excellent studio musicians such as Michael White (drums), Alex Al (bass), Ray Fuller (guitar), Brian Kilgore (percussion), Najee (flute), Steve Alanis (sax), Ron King (trumpet), Roberto Vally (bass), Tony Moore (drums), Yarone Levy (guitar), Dwayne "Smitty" Smith (bass), and Jim Pisano (tenor sax).
The album opens with So Many Ways, that perfectly combines harmony, atmosphere and a distinct melodic quality. That melody is always king is of course a rather commonplace, which is also true for the following What I'm Waiting For. A clap-along piece as it is in the book.
The hip hop flavored Mystical features Najee on flute in a modern arrangement. Influenced by the music style of Maze Sunlit Sea shines with the same elegance and piano lead.
Yarone Levy won me over with his prestidigitation on guitar. A Soft Touch is a great example for his mastery. Bonita attracts with Spanish flavor featuring anew Yarone on acoustic guitar. When I Found You gives love a chance. Written by Oliver Wendell, who also plays keyboards on this track, the song speaks to lovers with an emotional attitude.
When you love Ed Sheeran's Shape Of You, then listen to Whisper To Me which instrumentally walks the Marimba Loop approach. Daybreak gives enough room to dream. The title song closes the album with another high-stepping melody and great musical fineness between piano, guitar and sax.
Brian Simpson has hit the bull's eye with his album All That Matters. Ingenious musical ideas meet proven musicians, making this project a highly sought-after hit album.




Buy the album in all stores

Album Information

Title: All That Matters
Artist: Brian Simpson
Year: 2021
Length: 0:42:29
Genre: Smooth Jazz
Label: Shanachie Entertainment


Tracks:
1) So Many Ways (4:07)
2) What I'm Waiting For (4:12)
3) Mystical (4:32)
4) Sunlit Sea (5:10)
5) A Soft Touch (4:30)
6) Bonita (3:34)
7) When I Found You (4:14)
8) Whisper To Me (3:39)
9) Daybreak (3:50)
10) All That Matters (4:37)



Further Reviews:

South Beach

It's All Good

Just What You Need

Something About You

Out Of A Dream