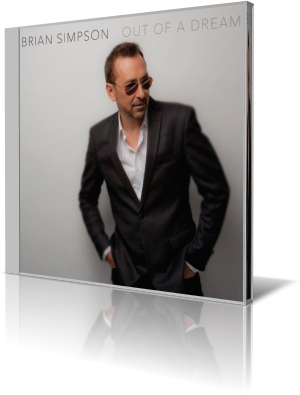 Keyboardist Brian Simpson is one of the most presented musicians on smooth jazz events. He is not only the musical director of Dave Koz but omnipresent as solo artist.
In his long lasting career he is known by his albums Closer Still (1995), It's All Good (2005), Above The Clouds (2006), South Beach (2010), and Just What You Need (2013). He has just released his newest one Out Of A Dream (2015) on Shanachie Entertainment.
Featured artists are Grace Kelly, Najee, Dave Koz, Norman Brown, Marc Antoine, Maysa and Maurice Brown. With the first tune One of a Kind Brian presents sax player Grace Kelly, who has passed the status of a newcomer meanwhile. Embedded in a lush arrangement she stretches out with a phenomenal sax solo.
Inviting flutist Najee is not a favor but always an enrichment for the song. When two brilliant musicians come together as on Out of a Dream, arises the inspiring spark that contributes to the success of the piece. Dave Koz and Brian Simpson play since years together. On When I Say Your Name interaction is both seamless and perfect.
European influences are noticeable in Brian's music. Sky Watcher sounds like a mix of New Age and World Music. On Just One Wish guitarist Norman Brown sets his clear chords, wherein the interactive has great importance for both musicians. Guitarist Marc Antoine and keyboard player Brian Simpson are an established team. The Bossa Nova inspired San Lorenzo has an inimitable flow, only two experienced musicians can create.
Sax player Steve Alaniz perfectly fits into the dynamic Let's Get Away. Singer Maysa is in her element with Rio Sway, which builds on the tradition of Gilberto Gil and Antonio Carlos Jobim. The most charming facets of a woman are her eyes. With Her Eyes Brian plays the hymn and the fascination seamlessly goes to the listener.
Brian aims with jazz trumpeter Maurice "Mobetta" Brown on a fancy version of Nightfall. Trumpet and Derek Douget's tenor sax bring it into a swinging attitude. The album ends with a radio edited version of Sky Watcher.
With Out Of A Dream Brian Simpson has taken precisely the auditory nerve of the smooth jazz community.



Biography

Album Information

Title: Out Of A Dream
Artist: Brian Simpson
Year: 2015
Genre: Smooth Jazz
Label: Shanachie Entertainment


Tracks:

1 - One of a Kind (feat. Grace Kelly) [04:26]
2 - Out of a Dream (feat. Najee) [04:00]
3 - When I Say Your Name (feat. Dave Koz) [03:53]
4 - Sky Watcher [04:02]
5 - Just One Wish (feat. Norman Brown) [04:14]
6 - San Lorenzo (feat. Marc Antoine) [04:48]
7 - Let's Get Away [04:10]
8 - Rio Sway (feat. Maysa) [03:52]
9 - Her Eyes [04:57]
10 - Nightfall (feat. Maurice Brown) [04:16]



Further reviews:

South Beach

It's All Good

Just What You Need