| | |
| --- | --- |
| Archive | |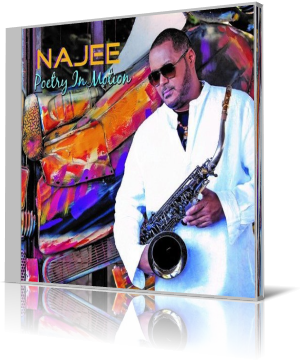 Time flies by and taste is moving. Long-term values lasting for now and future generations are rare. Najee's music is such a seldom companion through our whole life. In this surf of changing fashion he is the rock of consistency.
His newest project Poetry In Motion will be released August 25, 2017 on Shanachie Entertainment. By the way his fourth release on this veritable label. Najee performs on the album soprano, tenor sax and flute. As used by his projects Najee has again surrounded himself by a large group of musicians. Among the listed musicians are Barry Eastmond, Matt Cooper, Mike Logan (keyboards), Blake Aaron, Bluey, Richard Bull, Randy Bowland, David P Stevens (guitars), Catl Carter, Francis Hylton, Michael Manson (bass), Jermaine Parish; Francesco Mendelia (drums), Victor Williams, Joao Castano (percussion), Eric Roberson, Will Downing (vocals), Bobby Lyle (piano), J.J. Williams (drum overdubs), and Rod Bonner (keyboards, bass guitar and drums).
The stratosphere is the second major layer of Earth's atmosphere, just above the troposphere, and below the mesosphere. The unique feature of this song compared to many competitors in the smooth jazz genre is the remarkable flow of the melody without any overdub or programmed superstructure. Just Najee and his instrument in pure coincidence.
Is It the Way is featuring soul singer Eric Roberson, who is known to the smooth jazz community by his work for Kim Waters (Silver Soul) and Jeff Bradshaw (Home). A highly artistically gifted vocalist in this genre. Let's Take it Back is featuring Jean-Paul "Bluey" Maunick. Don't await an Incognito stylish acid jazz jam. This song is going in the direction of a good-feeling catchy smooth jazz.
While drummer Jermaine Parish and percussionist Victor Williams create a Bossa Nova layer on Noche Romantica (Romantic Night) Najee ravels in a sonic flow on tenor sax. The syncopated bridges remind of Chick Corea's Spain. We'll Be Missing You is perfectly designed to Will Downing's emotional warm-bodied vocals, marvelously interweaved with Najee's intimate soprano sax.
As the title indicates Najee has written Song for the Ladies for his female devotees. A sound of delicate intimacy which equally appeals to both sexes. Maysa is the undisputed queen of soul. Every song she interprets, gets a touch of gold. Don't Make Me Wait makes no exception, a love ballad with a unique and extraordinary intriguing harmonic and sensitive description of human relationship.
It is no coincidence that Najee chooses the flute as the lead instrument on his title song. This instrument is the cultural key to his artistry. Poetry in Motion also features Bobby Lyle, a veteran titan on piano. On Running Away Najee unites with guitarists Blake Aaron and Randy Bowland to a sonic synergy going far beyond their single identity. Duology is the junction of Najee's improvisational complexity and Rod Bonner's simplicity to something very accessible.
Najee assembled on his album Poetry In Motion an abundance of flawless musicianship. His work of excellence is a permanent professional standard other saxophonists have to aspire their whole lives.




Buy the album in all stores

Album Information

Title: Poetry In Motion
Artist: Najee
Year: 2017
Genre: Smooth Jazz
Label: Shanachie Entertainment


Tracks:

1. Stratosphere
2. Is It the Way Feat. Eric Roberson
3. Let's Take It Back Feat. Incognito
4. Noche Romantica
5. We'll Be Missing You Feat. Will Downing
6. Song for the Ladies
7. Don't Make Me Wait Feat. Maysa
8. Poetry in Motion Feat. Bobby Lyle
9. Running Away Feat. Blake Aaron
10. Duology



Further reviews:

The Morning After

The Smooth Side Of Soul

Mind Over Matter

Rising Sun

My Point Of View