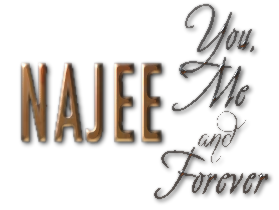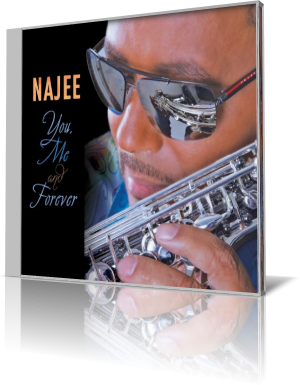 Saxophonist Najee is one of the greats of his genre. On the competitive music market, this means a constant struggle for the favor of music buyers. Due to his high profile, the interest in his music is consistently great.
Accordingly costly and involving a huge variety of musicians were these recordings. You, Me, and Forever is Najee's 16th studio-album and third release on Shanachie Entertainment.
On the starting Air Najee unfolds pure magic with the flute. Everything is directed forward and to full speed. Rod Bonner on piano, Kenny Hawkins' guitar staccato, Daniel Powell on fast paced drums, there is no time to wind down.
Alex Bugnon composed Fly With The Wind with the intention of a duet between tenor sax and piano. While Najee performs the sax in bursting flow, Chris "Big Dog" Davis serves the right answer on the keys. Antonio Carlos Jobim wrote the world hit Wave in 1989 making the Brazilian Bossa Nova extremely popular. Najee transforms the song into a modern form with a dazzling piano solo of Robert Damper.
David Pack penned Biggest Part of Me, a soft-rock smash for his band, Ambrosia. The cover version features singer extraordinaire Chuck Johnson thoughtfully arranged with a perfect horn group, a bit faster than the original. Signature is a collaboration between singer and composer Frank McComb and Najee. With the exception of sax and guitar (David P. Stevens) Frank performs all instruments on his Korg Kronos 88.
With the swinging Bossa Nova Butterfly Girl Najee impresses anew as flute virtuoso. Give It All We've Got features the amazing singer Andrea Wallace whose voice blends symbiotically with Najee's soprano sax. Andrea already performed with Kirk Franklin, Jill Scott, Tom Braxton, Melba Moore and many others. A voice to remember.
On You, Me And Forever Najee joined Robert Damper again, who is by the way the musical director of Kenny G. Both are showing their instrumental excellency. Spectrum differs with an edgy and funky sound and Kenny Hawkins as a rock star on guitar. Final tune is Jannah, a hard bop oriented composition by the late saxophonist Ahmad Alaadeen. With this tribute Najee and James Lloyd present their gifted jazz skills.
You, Me And Forever is an original Najee album with all awaited qualities. Najee is still in the leadership of smooth jazz.




Buy the album in all stores

Album Information

Title: You, Me And Forever
Artist: Najee
Year: 2015
Length: 0:54:46
Genre: General Jazz
Label: Shanachie Entertainment

Tracks:
01 Air [6:10]
02 Fly With The Wind [3:52]
03 Wave (Featuring Robert Damper) [5:26]
04 Biggest Part Of Me (Featuring Chuck Johnson) [5:48]
05 Signature (Featuring Frank McComb) [5:02]
06 Butterfly Girl [5:20]
07 Give It All We've Got (Featuring Andrea Wallace) [5:04]
08 You, Me And Forever [4:52]
09 Spectrum [4:16]
10 Jannah (Featuring James Lloyd) [8:55]


Further reviews:

The Smooth Side Of Soul

Mind Over Matter

Rising Sun

My Point Of View