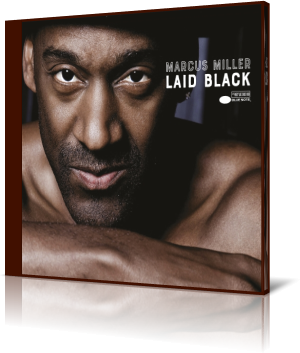 Bass icon Marcus Miller, one of the top five world bass players, enjoys high name recognition. He not only possesses a high reputation among critics but also among his professional colleagues. Ever since he took over the role of host at the smooth jazz cruises, he is well known far beyond the field of jazz.
His solo albums are not pure collections of songs but conceptually planned. On his previous album Afrodeezia he themed not only Africa, but sought a close alliance with numerous African musicians. Marcus comments: "With Laid Black, I decided to bring the music right up to the present – using elements from what's happening in urban music today. So you'll hear hip-hop, trap, soul, funk, R&B and jazz on this album".
Marcus performs on the new album bass, keyboards, vocals, synths, Wurlitzer electric piano, clavinet, bass clarinet, drums, and rhythm programming. Further supporting musicians on selected tracks are Marquis Hill, Patches Stewart, Russell Gun (trumpet), Alex Han (alto sax), Brett Williams (keyboards, piano, Fender Rhodes), Alex Bailey (drums, percussion), Russell Gun with New Orleans horns, Selah Sue (vocals), Adam Agati (guitar), Trombone Shorty (trombone), Jonathan Butler (vocals, guitar), Louis Cato (drums), Kirk Whalum (flute, tenor sax), Caleb McCampell (vocoder), Cliff Barnes (piano), Julian Miller (vocals), Richie Cajate-Garcia (percussion), and Take 6 (vocals).
Trip Trap introduces into the darkness of Marcus' bass with breathtaking virtuosity running the scales up and down. The musical counterweights deliver Marquis Hill on the trumpet, keyboardist Brett Williams and the formidable New Orleans horns under the direction of Russell Gun. Que Sera Sera, written by the songwriting team of Jay Livingston and Ray Evans in 1956, became famous by Alfred Hitchcock's film The Man Who Knew Too Much with Doris Day and James Stewart. Marcus Miller proves that you can handle this song very differently. Belgian singer Selah Sue shows ecstatic moments in the style of Janis Joplin.
On 7-T's the power team of Marcus Miller, Trombone Shorty and Alex Bailey creates an explosive package which breaks the line between genres. If you invite the singer and guitarist Jonathan Butler, you can safely assume that he brings in his South African flair. Although he leads the leitmotiv on Sublimity 'Bunny's Dream', he remains more of a member of the concert jazz.
On Untamed everything starts with a sequenced keyboard sound, based on which the recording musicians rank their talented excursions. No Limit shares a catchy melody with the crew. The rhythm enhanced tune infects the listener with the dance virus. On Someone To Love Marcus picks up the acoustic bass to sing in harmonious union. On Keep 'Em Runnin Marcus Miller is joined by his son and vocalist Julian Miller. Together they search the hip hop experiment.
The final tune Preacher's Kid differs significantly from the other songs on the album. Take 6 delivers a sonic Gospel atmosphere. Marcus performs no bass but bass clarinet. Kirk Whalum is in the lead on his tenor sax, who in the course of the piece is playing a jazzy battle with alto saxophonist Alex Han.
Marcus Miller's album Laid Black is an album, which does not make it easy for the listener. Miller puts the preferences on the bass and makes only one exception. But who knows his album and loves his music, gladly accepts this. With the style mixture the whole thing is already more challenging. Again, the announcement applies, you do not have to live with each piece. Under the knit, his album is a win for the music world and that's the only thing that matters.