Marcus Miller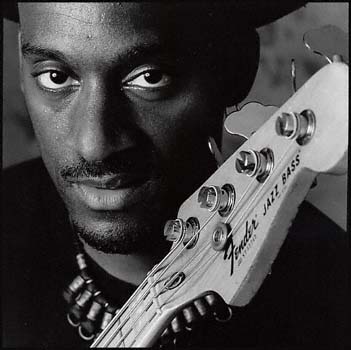 Over the course of one of the most enviable careers in all of music, Marcus Miller has ascended into a two-time GRAMMY-winner and the composer/producer of nine critically acclaimed and genre-defying albums (six studio and three live) as a leader, featuring his astounding and singular technique as one of the world's most gifted, forward-thinking and eclectic electric bassists.

As a producer, writer and player, he was the last primary collaborator of jazz legend Miles Davis, contributing the composition (and CD) Tutu to the canon of contemporary jazz music. As a co-producer, arranger and player, Marcus was highly influential in the success of Luther Vandross, co-writing dozens of R&B/pop million-sellers with the beloved singer, including "Never Too Much," "Any Love," "Til My Baby Comes Home," "For You To Love" and the GRAMMY-winning "Power of Love/Love Power."

As a multi-instrumentalist, Marcus is highly proficient as a keyboardist, clarinetist/bass clarinetist and, primarily, as a world-renowned electric bassist, topping critics' and readers' polls for three decades. His resume is brimming with over 500 recording credits as a sideman on albums across the spectrum of musical styles: rock (Donald Fagen and Eric Clapton), jazz (George Benson, Dizzy Gillespie, Joe Sample, Wayne Shorter and Grover Washington, Jr.), pop (Roberta Flack, Paul Simon and Mariah Carey), R&B (Aretha Franklin and Chaka Khan), hip hop (Jay-Z and Snoop Dogg), blues (Z.Z. Hill), new wave (Billy Idol), smooth jazz (Al Jarreau and Michael Franks) and opera (collaborations with tenor Kenn Hicks and Kathleen Battle).

In the movie world, Marcus rose from writing the all-time great go-go party jam "Da Butt" for Spike Lee's School Daze to becoming the go-to score composer of 20+ films, ranging from the Hudlin Brothers' comedy classic Boomerang and the family gem This Christmas to the animated children's film The Trumpet of The Swan, the basketball documentary 1 Love and Chris Rock's coming of age television series Everybody Hates Chris.

Today, Marcus' interests and projects are expanding into even more artistic endeavors. 2007 found him hosting the North Sea Jazz Cruise, which called for him to not just bring his band and turn the boat out, but hand-pick the other musicians who participated, covering all the bases with legends Herbie Hancock, McCoy Tyner, David Sanborn and Dee Dee Bridgewater, edgy contemporary stars Roy Hargrove, James Carter, Medeski, Scofield, Martin & Wood, European imports Ulf Wakenius and Silje Nergaard, and fierce up-and-comer Lionel Loueke. Treating fans to excellently planned programs (including a Sunday morning "Gospel Hour" co-hosted with the chameleonic Kirk Whalum) as well as spontaneously thrilling jam sessions, Marcus also led seminars, interviews with the giants, and encouraged all the stars to mingle with the cruisers. So awesome was the experience that Marcus was asked back to host the inaugural Playboy Jazz Cruise of the Caribbean in 2009. Marcus and David Sanborn will be reunited to host jazz cruises in 2011 and 2012.

Marcus recently co-produced Dave Koz's eleventh studio album with John Burk, Chief Creative Officer at Concord Music Group. He also produced a track with Herbie Hancock and the internationally celebrated singer/songwriter Juanes, entitled "La Tierra" on Hancock's The Imagine Project, the eagerly awaited follow up to Hancock's GRAMMY Record of the Year The Joni Letters. Miller's career continues to constantly evolve and change, keeping him at the forefront of jazz. With his most recent live recording, A Night In Monte Carlo, featuring special guests Roy Hargrove and Raul Midon set for release February 1st, 2011, Miller's career continues to evolve and change, keeping him at the forefront of jazz.