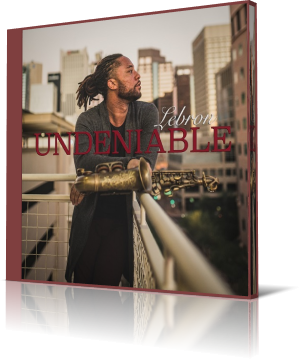 Saxophonist Lebron was influenced by his father who played the identical instrument professionally. Later Hugh Lovelady, the lead alto player for Frank Sinatra's band, was his teacher. He started his solo career with the album Shades (2013) on CutMore Records. His sophomore album New Era was released in 2015 on Trippin 'N' Rhythm Records. Now he returns with his third project Undeniable (2019) on the same label.
Most tunes are written by Michael Broening, who also produced great parts of the album and plays keyboards, piano, drum programming and bass. Some of the tunes are produced by Matt Godina who performs keyboards, bass & drum programming and guitars. Additional musicians on selected tracks are Freddie Fox (rhythm guitars), Mel Brown (bass), Lin Rountree and Cindy Bradley (trumpet), Kendall Lee Gilder (guitar), and Anthony Saunders (vocals). Lebron performs soprano, alto and tenor saxophones.
The album starts with the grooving Issa Party that combines the stomping rhythm guitar sound of Freddie Fox with the tight horns of saxophonist Lebron and trumpet player Lin Rountree. On Feels like '84 Lebron performs in lead position on his alto saxophone adding some horns in overdubbing mode, while Kendall Lee Gilder lets his guitar sing.
Say You Will are the affirmative words that often open a new stage in life. Embedded in a flowing rhythm complex, Lebron builds his enchanting melody. Lebron is an excellent harmonizer, as he demonstrates with great expressiveness on The Late Hour.
The balladic approach is Lebron's great strength as with the piece No Need for Words that speaks for an expressive tonal power. Cindy Bradley's muted trumpet is the icing on the cake. Let Me Count the Ways is featuring Kansas City's singer Anthony Saunders who also played a decisive role in the arrangement of this R&B song.
The title song is a haunting eclectic tune with an impressive flow and a blowing vibe, evidently one of the best products of Lebron's collaboration with producer and music artist Michael Broening. Green Light comes again with the contagiously stomping rhythm, which rules the Billboard chart of smooth jazz.
Sooner Than Later was written by Aubrey Graham, Noah Shebib, and Dalton Tennant and originally performed by Canadian rapper Drake on his mixtape So Far Gone (2009). This rendition is spot on presentation and arrangement by Matt Godina. It Feels Different follows the dream concept with multiple layers that assemble like mosaic stones to an organic cloud of harmony.
Lebron's new album Undeniable scores points in the land of lovely harmonies illuminating the creative center of similar musicians like Kenny G. However Lebron doesn't just offer equal alternatives but his own personal melodic vision.





Buy the album in all stores

Album Information

Title: Undeniable
Artist: Lebron
Year: 2019
Genre: Smooth Jazz
Label: Trippin 'N' Rhythm Records


Tracks:

1 Issa Party 4:18
2 Feels like '84 3:48
3 Say You Will 4:45
4 The Late Hour 3:57
5 No Need for Words 6:02
6 Let Me Count the Ways (feat. Anthony Saunders) 4:43
7 Undeniable 4:29
8 Green Light 4:21
9 Sooner Than Later 5:31
10 It Feels Different 6:36


Further review: