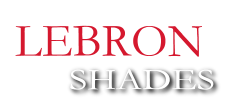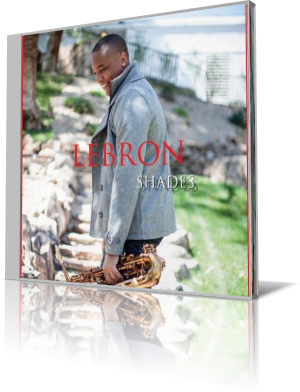 Lebron was infected by the smooth jazz virus in early age of 12 years, when he attended an Earl Klugh concert. He was blown away by the sax player of his band. His father played the saxophone professionally, so it was easy for him to learn this instrument.
Years later he was trained by the lead alto player for Frank Sinatra's band, Hugh Lovelady. He calls Gerald Albright, Kirk Whalum, Everette Harp, Grover Washington Jr, and Nelson Rangell to his influences.
With his debut album Shades (CutMore Records) Lebron shows his great talent supported by Paul Brown and Frank Selman(guitar), Mel Brown and Ken Friend (bass), Nicholas Cole (piano), Darren Rahn (keyboards, sax and programming) and many more.
The latter has made ​​a great contribution to the album by arranging and producing all tracks with the exception of two songs. The starting Groove City reveals the straightforward power of Lebron's youthful performance. Paul Brown puts something extra with inviting guitar chords.
Lebron steps it up a notch with Turn It Up. It's party time. On the way to the mysterious sound Kinetic gives first sign. On Kiss And Tell Lebron meets music genius Nicholas Cole. Both share on saxophone and piano musically in a colorful way.
The multi-layered Double Or Nothing puts the spotlight on Darren Rahn. The duet of both saxophonists is pristine and enthralling. The song is perfectly tailored by Rahn's well designed arrangement. Powered by the predetermined drum programming Merry Go Round is going to a glowing explosion.
With the title song Lebron consciously seeks the soulful way. He comments: "To me, its never been about playing a bunch of notes as fast as I can or being too technically complex. The average listener can't relate to that. Sometimes all that's needed is the RIGHT note. I'm a strong believer that you can say more musically with less, just as long as it sounds pure."
This emotional mood he takes on with Let It Go. At this point, however, the rhythm programming is reaching its limits. One can also notice this interference on the song Always On My Mind. The sensitive interpretation on the saxophone requires a more balanced rhythm. The final piece Remember When has this harmony of melody and rhythm.
Lebron launches his solo career with Shades on a high level. He shows a potential that conveys confidence in his musical future and growth.




Biography

Website


Buy the album in all stores

Album Information

Title: Shades
Artist: Lebron
Year: 2013
Length: 0:41:52
Genre: General Jazz
Label: Trippin 'N' Rhythm Records

Tracks:

01 Groove City [4:05]
02 Turn It Up [3:57]
03 Kinetic [3:56]
04 Kiss And Tell [4:08]
05 Double Or Nothing [4:46]
06 Merry Go Round [3:56]
07 Shades [4:30]
08 Let It Go [4:08]
09 Always On My Mind [4:09]
10 Remember When [4:19]