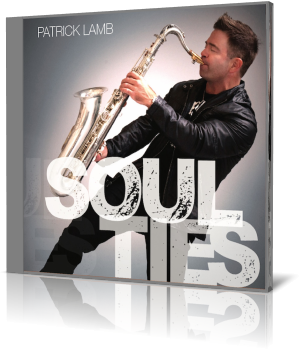 Patrick Lamb is the saxophonist of the stars. He performs with Gino Vannelli, Bobby Caldwell, Esperanza Spalding, Jeff Lorber Fusion, Tommy Thayer, Diane Schuur, Bobby Kimball, Alice Cooper, and Smokey Robinson. However, his limited time still allows him to successfully pursue his solo career.
This we tie to his albums, as there are The Closer I Get (2000), Sunshine Alley (2002), With A Christmas Heart (2003), Soul Of A Free Man (2007), Don't Get No Better (2007) as duo with Patsy Meyer, It's All Right Now (2011), Pick Up The Pieces (2013), and this year Soul Ties.
Patrick plays sax on all tracks and is supported by Alex Al (bass), Tony Maiden (guitar), Jeff Lorber (keyboards), Lil John Roberts (drums). Cameron Morgan plays the second guitar on Liner Cross. Patrick has written all tracks with the exception of two covers. Listening to the introducing track Tailgate, makes it immediately audible that Patrick approaches his themes with raw energy and an irrepressible presence.
Beauty and the Beast is from Wayne Shorter's album Native Dancer (1974), a collaboration with Milton Nascimento. Shorter's original is slightly softer than Lamb's cover, which is probably due to the temporal development. The song Street Cred clearly shows the handwriting of Jeff Lorber, who sets rhythmically apparent accents.
Skypager is a cutting edge contemporary jazz piece with plenty of muscle. Moonchild is a typical Jeff Lorber groove with a no notes wasted collective of top musicians, in front of course Patrick Lamb shining on sax. On Darkroom a fast bass drives the musicians involved to peak performance.
Lines Cross is another mesmerizing product from the workshop of Jeff Lorber. Rhythm oriented, precise and energetic. Fearsome is a title that somehow doesn't fit the kind of melody that comes along sonically, but never denies its Jazz Fusion core. Homebrew is music that goes back to its origins. The fun of jamming together. Operator works with a long lasting sax improvisation in contrast to sparky patterns of drums, bass and guitar.
Brilliance is a subjective word, but Light It Up is nothing short of it. The ballade Whatever Happens was originally released by Bill Withers on his album Watching You Watching Me (1985), his last album of his rousing career. Patrick Lamb finds for his cover the more than suitable replacement by the vocalist Frank McComb. His slightly smoky voice provides a fantastic timbre to bring the content of the song closer to the listener. With such an ace up his sleeve it is easy for Patrick to complete his successful saxophone part.
If you get involved with Jeff Lorber, you get a Jeff Lorber album. Patrick Lambs' new album Soul Ties is jazz fusion at it's best and Patrick is very comfortable with this style.


Buy the album in all stores

Album Information

Title: Soul Ties
Artist: Patrick Lamb
Year: 2018
Genre: Smooth Jazz
Label: Patrick Lamb Productions


Tracks:

1 Tailgate (feat. Jeff Lorber) 4:27
2 Beauty and the Beast 4:27
3 Street Cred 4:46
4 Skypager 4:29
5 Moonchild (feat. Jeff Lorber) 4:15
6 Darkroom 3:50
7 Lines Cross 4:17
8 Fearsome 4:56
9 Homebrew 4:48
10 Operator 5:24
11 Light It Up 4:35
12 Whatever Happens 3:30

Further reviews:


Itís All Right Now