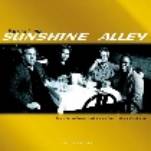 Mississippi-born saxman Patrick Lamb on this, his second album as bandleader, is really showing where his main influences lie.
In his teens, he played roadhouse music and his attention was caught by the music of James Brown and The Crusaders. After building a distinctive sound for himself in his new location of Portland, Oregon, he got the chance to tour with GRP's unique Diane Schuur.
He has subsequently recorded and toured extensively with pianist Tom Grant and has performed on sessions with Gino Vanelli and Jeff Lorber among others.
Appearances at the White House in 1996 and 1997 and a meeting with the sax-loving Bill Clinton raised his profile still further.
JM Blues opens this set – an uptempo number with busy, beautifully natural drums strutting through a 12-bar workout with a gutsy Hammond B3 organ and a sexy tenor sax trading licks.
The title track is a funkier number with a glorious backbeat provided by Mel Brown, one of two drummers featured on the album. The sax is confident, the whole track kicks hard and suddenly the roots of acid jazz are right in your face!
KC Blues is a severely cool 12-bar trip – that organ is put through its paces to match the gritty sax work on this Charlie Parker-penned tune.
A gorgeously sparse and tasteful arrangement of the jazz classic Harlem Nocturne sets the hairs on your neck on end just before the groove grabs you hard on a rocking and cheeky version of Stevie Wonder's I Wish. Laugh out loud – this is a masterpiece!
Sister Sanctified has that funky backbeat again and sounds instantly familiar. My father is an organist and as a kid I went to lots of organ concerts with him. The trademark sound of a Hammond B3 complete with Leslie speakers is something I'm familiar with – Louis Pain makes it sing on this disc.
The treatment of Dizzy Gillespie's Blue 'n' Boogie is one full of finesse – then Lamb lets rip on tenor and the song gathers intensity as it goes.
Patrick Lamb's songwriting talent is as undisputed as his blowing prowess on For the Love, a powerful ballad which made me dream of The Crusaders' golden days.
Frame for the Blues is as deep as modern blues gets. The organ is smoky – the sax is smokier. Lay back, relax and get lost in some real music.
A foot-tapping version of You are my Sunshine follows. It gets the smile reflex ready for the big, bad boogie-woogie of the curiously titled First Gravy. How hot must this be live??
The mellower groove of More Today than Yesterday will make organ fans beam with delight. Louis Pain – you rule! The melody on this song is so sweet and the playing so tight that anyone who has only heard the big-budget productions coming out of California and New York will be in for a pleasant surprise!
I've always loved Bobby Hebb's Sunny and this rocking version epitomises the blend of blues, jazz, R&B and sheer musicianship that these guys deliver. It respects the well-known song but adds and just keeps on adding fresh character to it...
Another Louis Pain composition, Lou's Blues, ends this gem of a set. The walking bass is running flat out – the drummer gets some too – and the whole thing is as crisp as a new banknote. The soloing isn't "safe" but no-one ever gets lost along the way. Magnificent.
I listened to this CD with my girlfriend who said "you could dance to this" and you definitely could dance to some of the cuts. On others, well, to give you an idea – I dimmed the lights, lit a cigar and drank a particularly fine scotch. Don't miss this CD.
Patrick Lamb Productions PLP-7453 - No producer credits
Reviewed by Chris Mann