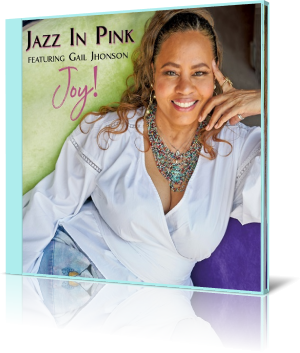 All art is dedicated to pleasure, and there can be no higher and worthier end than to make people happy. (Friedrich Schiller)

Jazz In Pink is the female alternative to the Rippingtons. Initiated by keyboardist Gail Jhonson this formation was founded in February 2008. Original core members are besides Gail, flutist Althea Rene, violinist Karen Briggs, and harpist Mariae Antoinette. Jazz in Pink released the debut album 1st Collection in 2014. Their sophomore album Joy! will be released end of October, 2020 on Shanachie Entertainment during the 12th anniversary of Jazz In Pink.
If you want to know more about the current members of the group, I recommend a look at the formation's website. Gail understands the formation as one big family, which now comprises more than 50 members, who appear in ever-changing line-ups. They are also involved in the album to a small extent, which was basically created by Gail Jhonson. Gail has invited a number of well-known musicians for her recordings, whose list you can find under credits below.
Joy Joy!, the starter of the album expresses exactly what Gail intends and wants to achieve with this album. The listeners should enjoy the music and carry this feeling of happiness into their everyday life, because the world is sad enough in its current state.
As the first single release, Gail already carried this message to the world last year. The song featuring labelmate Kim Waters on sax focuses on the tonal memorability, which develops its charm in the staccato effect.
The effervescence of Keystroke, the newest single release, is especially due to guitarist Paul Jackson Jr. who is in perfect rhythmic harmony with Gail's synths, providing a solid foundation for her melodic piano excursion. All That Jazz featuring Marion Meadows on sax spans the bow between smooth jazz and classical jazz giving room for the melodious, but not neglecting the jazzy component.
Gail has made a good choice with flutist Kim Scott, whose expressive playing brilliantly stimulates Positivity. The romantic Come For Me is a rare melodic seduction. Gail creates a tender mood with her emotional piano performance. Steppin' To The Keys presents itself as a gripping take-me-up that allows head bopping and finger snapping as the only reaction.

Into The Nite is the only tune with solely Gail as multi-instrumentalist. An infectious work which also admits dreaming. Roll Out has the right inspiring up-tempo twist to enthuse the listener. With bassist Robin Bramlett and drummer Danielle "DeSimone" Thompson two members of Jazz in Pink are supporting Gail's piano escapade.
The Ride mesmerizes the audience with a combination of synth and piano, infectious and attractive. Smoother is Gail's second collaboration with Nate Harasim, who performs synth and drum programming on this dynamic streamlined piece.
Jazz in Pink featuring Gail Jhonson has put together a tight package of expressive and rousing melodies on the album Joy! In the realization of its purpose, this album is undoubtedly a work of art in the sense of the above quote.





Buy the album in all stores

Album Information

Title: Joy!
Artist: Jazz in Pink feat. Gail Jhonson
Year: 2020
Genre: Smooth Jazz
Label: Shanachie Entertainment


Tracks:

1) Joy Joy! - featuring Kim Waters (4:21)
2) Keystroke (4:07)
3) All That Jazz - featuring Marion Meadows (4:28)
4) Positivity - featuring Kim Scott(4:22)
5) Come For Me (4:37)
6) Steppin' To The Keys (4:22)
7) Into The Nite (4:01)
8) Roll Out (4:29)
9) The Ride (4:08)
10) Smoother (4:06)

Credits:

Gail Jhonson (piano, synths, drum programming)
Ellis Blacknell (synths, bass, drum programming)
Kim Waters (sax)
Paul Jackson Jr. (guitar)
Marion Meadows (sax)
Sekou Bunch (bass)
Josh Scott (bass)
Kim Scott (flute)
Yakira (percussion)
Nate Harasim (guitar, synths, drum programming)
Tay Robinson (drums)
Wendell "PJ" Donald (synth)
Robin Bramlett (bass)
Danielle "DeSimone" Thompson


Further Review:

1st Collection